Boys' soccer team finishes season undefeated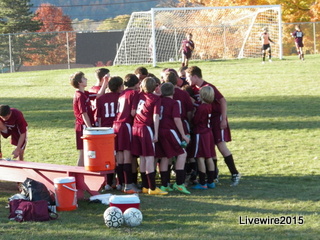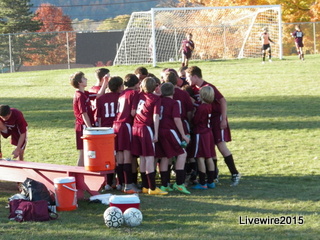 The boys' soccer team played their last game on Oct. 26.  The soccer team for the first time in school history is undefeated and consists of seventh and eighth graders.
 "I feel happy that we got a group of kids that actually believes what the coaches believe in, and we all believe if you work together and work hard you'll get what you want ," Coach Patrick McDowell said.
 There are twenty-two soccer players on the team.  McDowell  says they are pretty close but not buddy buddy but they have respect for each other.  They feel pretty good about their record.
 "As far as coaching, my proudest accomplishment literally is this year," McDowell said.
This is the first time McDowell has coached an undefeated school team.
 "I think we could have done a little better in Spring Cove. Their goalie was pretty good, his reaction time was really good," eighth grader Rusty Focht said.
Soccer is a game where size doesn't matter.  The main things that are needed are speed and good footwork. Timeouts are rare and don't occur often, unless a player is injured.  A soccer player dribbles the ball either by pushing it forward with short jabbing kicks within his instep.  Players can change the direction of the ball with the outside of their foot.  Players can hit the ball with their head, chest, thigh, shin.      
 They won all of their games and the opposing teams they went against were lucky enough to get a point or they got nothing. The final game was played in Spring Cove.
  "We're undefeated. I've never had a team like this before," McDowell said.
The undefeated season doesn't lead to more games, but the team is proud to go down in school history.  McDowell is hoping to get a plaque to put up for them.
"I think it's awesome, I feel we did really good this season. I'm hoping we can do it again next year," seventh grader Eli Campbell said.
The team is hoping to repeat the undefeated season next year.
"I like it's a team sport and you have to cooperate with the other players," eighth grader Zachary Kowalski said.