School should allow leggings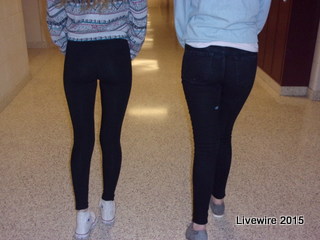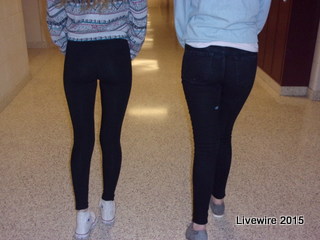 The Dress Code is a popular debate topic.  From the amount of time students can wear shorts, to the visibility of shoulders, there are several variables that people feel strongly about.  Leggings are a rising problem in the hallways.  Out of the large percentage of girls who wear them several times a week, only some students actually get into trouble.  The guidelines for this rule need to be abolished completely or be more "black and white." For the benefit of the school, the rule prohibiting leggings should not exist.  
In the Code of Conduct, leggings regulations are not clearly stated.  According to some sources, the female students can wear leggings as long as their top goes past the butt.  Not only leggings but all form-fitting pants must have a shirt long enough to touch the knee area; whether it is a hoodie or sweater that is to the knee, tighter pants are allowed to be worn.
Skinny jeans, joggers and other sweatpants are just as tight as leggings.  There are no rules saying that girls can't wear jeans or other pants without any stipulations of the length of their shirts.  Leggings are also more comfortable for some girls.  They would be able to focus more since they do not have to constantly move around to be comfortable.  It is a greater distraction to be uncomfortable than wearing these.
Comparable to pants, leggings are not a distraction.  Although some may see-through, this garment covers all parts from ankle to hip bone.  Unlike shorts, there is no length issues with leggings.  So therefore, there is no reason that other students should be focusing on them instead of their classwork.  If the school does permit leggings, there should be some guideline for sheerness of the pants.
Compared to jeans, leggings are cheaper.  This means students that can't afford jeans can easily buy a pair of leggings instead.  Instead of paying anywhere from $15 to $45 for jeans, girls can buy leggings for as much as $5.  Furthermore, if  jeans get a hole in them, they must be replaced. Leggings can be easily sewn to original quality.  The easy repair of these pants means that people can save the money needed to replace jeans.  The cost of this garment can lead to large savings for families that can be spent on other things.  
Simply allowing leggings would stop teachers worries.  The teachers and principals could then focus on more important rule-breaking situations and not this dress code violation.  The time the assistant principals spend dealing with girls who are not wearing the appropriate clothing can be used for meetings, working with teachers and other students, doing needed paper work, etc.  The legging issue is not just a problem for students that should be in class learning, but it is a headache for teachers and principals.
The official rule is tops that reach the knee area are allowed to be worn with leggings, but it is very difficult to find a shirt with this property.  Modern trends favor the shorter shirts and leggings.  While shopping, it is unlikely to find a shirt that reaches the knee area without disturbing the other dress codes.  Although some girls wear tights and leggings underneath dresses and skirts, there is not many popular clothing articles that reach the knee.
Leggings are a sticky situation for everyone.  They cause issues that do not need to happen.  The rule results in more distraction than a girl actually wearing them.  Leggings are just another pair of pants that can save families money.  Not only does it save money, it also saves teachers and principals time.  Is it really a crime to wear comfortable, fashionable pants to school?
Leave a Comment