Eligibility rules need changed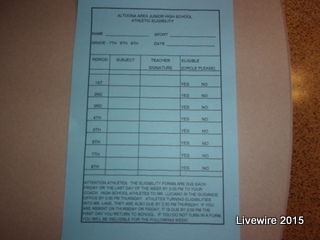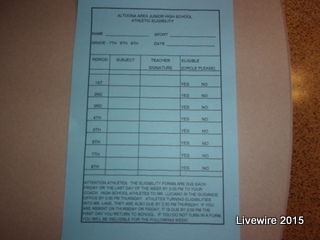 The school sports and activities have most students involved in them. On top of that students are busy with school work and homework. This is why eligibility slips are a problem. When students play a sport they have to get their eligibility signed by all teachers showing they have passing grades that allow them to play. Students should pass all classes to be eligible and eligibility should be checked through access with Progress Book.
When students get their slips signed they have to have passing grades to get the yes circled. If a person does not have passing grades, then the no will be circled. The school rule for the eligibility system is students that play sports must have six out of the eight to be circled yes. That is ridiculous! To play a sport all athletes should have passing grades in all classes. Ninth graders and up especially because starting in ninth grade, grades and credits all go towards graduation and college.
The education is more important than playing a sport for the school. To graduate, to go to a good college and to get a good job, students grades should be good. Also, if a student fails a class that person can not get credit for the year and to graduate students have to have a certain amount of credits. If the school rule is saying students and sport players can get two no's for the rest of the year and fail that class or classes, that student or athletes can fail.
On the other hand, today's generation is all about technology like cell phones, game systems, computers and many more. Even with all the technology this world has they still have sport players going around asking their teachers to sign a paper. Why get a paper signed when the sport teachers or coaches can pull up Progress Book to see if these players are eligible?
Students are smart when it comes to getting out of things. The coaches never know what the player's teacher's signature looks like. In this case, the student can forge their teacher's signature if they know they are failing a certain class or classes. 
On top of that athletes are busy with work they have, so they might not find any time to get the eligibility slip signed. Yes, sport teachers and coaches could be giving the slips to the players to show them responsibility, but the sport players already have enough responsibility with school keeping grades up, homework or any other work and getting things in on time. The sport teachers or coaches should look up players grades to make sure there is no forged signatures and so they can actually see the athletes grades.
In the end to all of this the sport players should get passing grades in all of their classes. Then the technology that the world has today should be used as an advantage to look up the player's grade.
Leave a Comment