Boys' basketball season starts with maroon, white rivalry games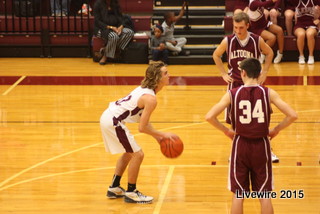 Boys' basketball has shot out of the gate to start this season, each of the six teams has won at least one game so far.
Last week the maroon and white teams played each other.  All grades had close games against each other in the biggest rivalry game of the season.  The ninth grade maroon boys' won their game against the white team. 

"We had fun, and played a good game. I especially think I played really well," maroon player Josh Hill said.  

The game was tight until the second half when maroon really started to pull away.  The maroon team scored 51 points while the white team only scored 34 points.
In the eighth grade showdown maroon pulled out the win in a close first half match up against the white team.  The white boysput up a strong fight in the first half.  The maroon team came fast out of the gates in the second half.  

"It was a hard game, we fought hard and we won the game." Maroon player Javonte Fortson said. 

The maroon team clutched out the game in the end with a final score of 34-22.  The game was a low scoring showdown.
The Seventh grade white and maroon game was played last Friday.  The white team used size to their advantage as they strived for success in the paint. 

"We should've played a better game than we did, we'll get them next time," maroon player Marcus Day said.  

The boys won't play again until the end of the year. Don't expect anything less than a close game.  The white team won the 
game 36-20.
<iframe width="800" height="1430" frameborder="0" scrolling="no" style="overflow-y:hidden;" src="https://magic.piktochart.com/embed/10202606-aajhs-basketball"></iframe>

https://magic.piktochart.com/output/10202606-aajhs-basketball
View Comments (5)