Museday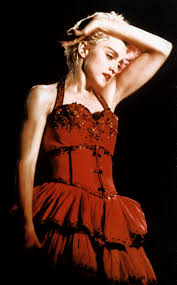 Music is the greatest thing since….
Madonna Still Reigns after 30 Years
Music is the greatest thing since… High School Musical reunion.  Today, we are having a throwback Thursday.  Madonna.  She is known as the "Queen of Pop".  Although she was big in the '80's, Madonna still influences today's culture.  Take a look at Lady Gaga;  some feel she is the modern Madonna.
So who is this old lady?  Madonna, born Madonna Louise Ciccone, is #2 on the all time greatest artist list, second to the Beatles. Even at the age of 57, Madonna still tours and writes songs.  Her newest album, Rebel Heart, includes artists such as Nicki Minaj and Chance The Rapper.  Madonna's solo career started in 1981.  Just ten years later, she had 21 hits reaching the Top 10 songs.  After years of touring, singing and revolutionizing, Forbes named the singer the wealthiest woman in the world.  Besides singing, Madonna has also appeared in several films, one of them is  A League of Their Own.
Coming from a traditional Catholic family, Madonna breaks the mold.  She formed new trends, styles and music.  Her new songs are good, but the oldies are always goodies.  "Lucky Star", "La Isla Bonita", "Material Girl", "Holiday" and "Express Yourself" are among some of Madonna's best.  Then there is always the classic "Vogue".  This song and its signature dance moves are still popular today.  Just like David Bowie, you can not go wrong.  
http://www.biography.com/people/madonna-9394994#rise-to-pop-stardom
Leave a Comment