Boys' basketball teams wrap up season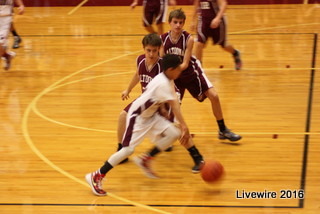 From maroon to white, seventh to ninth grade, the boy' basketball teams defend until the end. The teams work hard to finish out the season with no more losses.
"At the end of each season, my friends and I look at the final record for both maroon and white to see who had the better team this season," Brendan Kuhns, a ninth grade player said.
For white ninth grade, the record is 7-7, eighth grade is 6-6 and then seventh grade is 11-1. For the maroon ninth grade, the record is 7-4, eighth grade is 9-6   and the seventh grade is 12-0. The boys' basketball teams are ending their season with only a few games left. Even though the seasons about to end in the middle of February, they still practice hard.
"We run a lot at practice. We do some fun and some not so fun drills, but in the end it all works out because we get better as a team and the coach gets better as a coach," Alex Berardinelli, an eighth grade player said.
At the practices the boys practice defense, offense, they scrimmage each other to see who is and who is not improving and shoot to get better.
"The season is almost over and I am not happy with it because I love the game. Even though we only have a few games left, our coach still pushes us very hard at practices," Adam Lynch, a seventh grade player said
Even with the season still being close to the finish, the boys' still need to work on things here and there.
"The season is going to be better ending than it did starting," Kuhns said.
From the jump of the ball until the last buzzer at the fourth quarter, they work hard to try and give their best to win the games. They all say play the game like it is the last one. The boys give positive attitudse on and off the court. The guys try and make themselves better at every game and practice.
"Stepping onto the court when it is time to play my mindset changes from pumped up to nervous, but I go into the game as Connor and come out as Chris Paul," Connor McCarthy, a ninth grade player said.
The boys' get nervous when they are about to play but as the get into the game and start to play they get into it more, because in the end they want to win.
"Let's go boys! We can win this game, just 20 seconds left and it is all ours," a fan said.
Leave a Comment