PBS committee hosts Roar-diculousness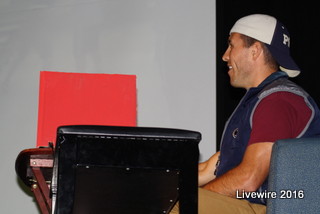 Students came to the auditorium to watch an episode of Roar-diculousness!
On Oct. 13 students of AAJHS got out of class to watch seventh grade teacher Shawn Cerully, eighth grade counselor Michele Holton and ninth grade teacher Kenneth Krott act like they were a part of the MTV show Ridiculousness.
These types of assemblies are put together by the PBS committee. The principal of the committee is Brad Hatch. Each year there is a different approach to the assemblies to affect kids in different ways.
"It was totally different. This year we  modeled it after the show Ridiculousness, we also had an all new video to get kids excited and interested,"Hatch said." Each year the assemblies remind the eighth and ninth graders and introduce our seventh graders to the ROAR expectations in a fun and exciting way."
Cerully is one of the  main teachers in the PBS committee. He helps out behind the scenes and on stage.
"This year's assembly was modeled differently. It is a different show this year and there were no skits, but there was still student involvement which made it fun," Cerully said. "Holton and Klausman do the planning of the assembly while Krott worked on the technology."

A variety of different students thought and took away different things from the assembly.
"Hopefully they take away the purpose of ROAR but also realize they can have fun and do those things at the same time," Cerully said.
"It was really fun and creative," ninth grade student Ta'Shay Seward said. "They showed us how to be respectful in a unique way."
As for the purpose of the assembly, that is up to the students to figure out.
"The purpose of it is to show how to be respectful, take ownership, being responsible for our actions and our relationships," Seward said.
In the middle of the assembly Krott played a video of students being interviewed. The only catch, teachers got their groove on without them knowing it!
"I thoroughly enjoyed trying to do something without getting caught," ninth grade teacher Autumn Barry-Kyle said.
"I was ashamed and embarrassed of myself not knowing," ninth grade student KJ Futrell said.
Towards the ending of the assembly teachers and students went on stage for a water bottle flipping contest.
"It was fun being up on stage with my friends, but it was nerve wracking going up against some of my favorite teachers," ninth grade student Alison Peterman said.
PBS is made for the student body's benefit.
"I feel strongly about reinforcing positive behaviors with students by recognizing good deeds and acts," Hatch said.