Girls' volleyball season comes to end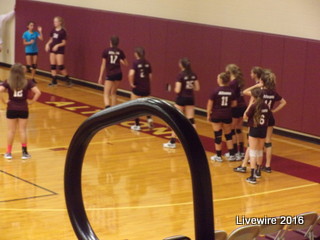 On Oct. 5 seventh and eighth grade volleyball teams had a game at the junior high against Spring Cove which added wins and losses to their team's record.  
It took the team hours of practice to help them win their games during the fall with Coach Perino and  Coach Wilt. The team's record is for the eighth graders is 10-2 and the seventh graders is  6-7.  The players work on spikes, aces, blocks, bump passes and underhand serves.
"I feel that our season is going really well since we only have had one loss, and we work well together at practice,"  eighth grader Sarah Weathersbee said.
Along with Weathersbee, the seventh graders feel like they need to work harder at practice but also feel like they are good so far in the season.
"I feel like I did well as so did the team but we could do better throughout this season," seventh grader Jacy Kutz said.  
The volleyball players reflect their skills in volleyball  from when they started at a young age.
"I started volleyball around third grade," Weathersbee said.  
The other players could start at a young age.   
"I started playing volleyball in fourth grade," Kutz said
 Those two players think volleyball was a great sport to play.  
"I thought it was an interesting sport and that it was uncommon to people," Weathersbee said.
Kutz thought something different.
"I wanted to try something different," Kutz said.
They have their favorite parts about volleyball in general.
"My favorite thing about volleyball is how everyone works as a team," Weathersbee said.
"My favorite thing about volleyball is doing it with my friends," Kutz said.
Being in seventh and eighth grade the volleyball players will have to move up to a different team next year. Volleyball players have advice for the younger girls coming in to the junior high next year not just for volleyball but for the entire school.
"Try to join as many clubs as you can and be active in the school and don't be scared to try anything new," Weathersbee said.  
"The advice I would give is that it is not as scary as it seems to be," Kutz said.