Girls' soccer ends season undefeated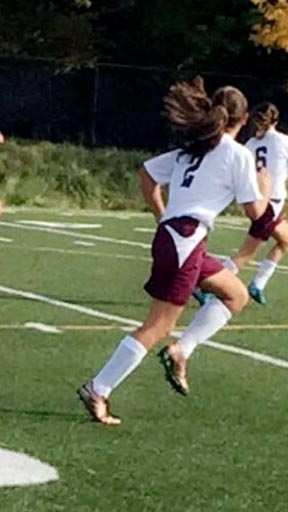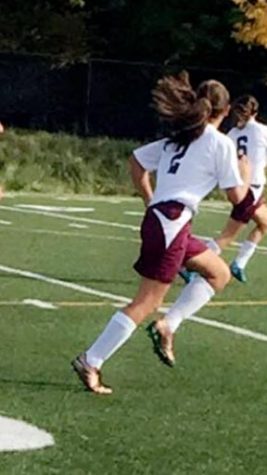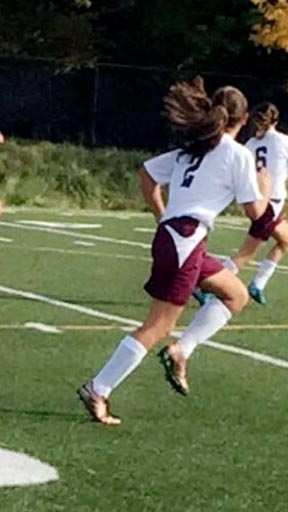 The girls' soccer team finished the season with a perfect undefeated 17-0 season.  The team finished with 123 goals.
Cassie Kyle had 36, Darrian Berkheimer had 20, Morgan Sarver had 17, Lauren Kiser had 13 and Samantha Hamer and Madison Cabell each had 10.  Darrian also lead the team with 19 assists.  The defense which was stellar all season only allowing 13 goals, while goalkeeper Julia Lane had 113 saves and 8 shutouts.
Team members include: (eighth Graders) Lydia Baum,Darrian Berkheimer, Sarah Graham, Eve Hogan, Meg Keating, Cassie Kyle, Julia Lane,Shelby Smeal, Abby Starr and Jocey Sunderland.  (seventh graders) Madison Cabell, Addy Dietzel, Becca Dull, Samantha Hamer, Brooke Harrington, Ashtyn Hileman, Lauren Kiser, Danielle Mueller, Emily Park, Morgan Sarver, Merecedes Thompson and Tessa Wise.
Harrington is the left defense for the girls' soccer team. Harrington decided to play soccer when she was six.
"I started playing soccer when I was six, it was just like this get together thing and whenever I was eight I started to play seriously."  Harrington said. " I like how active you are in the game and how you like never stop moving." 
On a normal day soccer practices are an hour and a half long, consisting of running a mile, scrimmage matches and passing drills. Harrington has no issue getting to practice because the school provides transportation.

Maintaining grades and playing soccer requires time management skills.  
"Practices end at 5:30 so I have a lot of time to do my school work and everything else," Harrington said.
She is motivated by her parents and academic eligibility to keep her grades up.
Occasionally soccer makes it hard for Harrington to do other activities during the official season. Most of her friends are on the team so she has no problem maintaining friendships
Energy levels can be an obstacle with the fast paced game of soccer.
"Probably like when you get tired and you have to continue playing." Harrington said
Harrington plans on playing soccer next year. Coach McDowell played soccer when he was younger. Coach McDowell was prompted to teach for many reasons.
"Well I probably decided to teach because I helped teach younger kids at my martial arts school," McDowell said.  McDowell decided to be a soccer coach because at the time a soccer coach was needed and he was interested.
McDowell enjoys preparing the junior high students to move on to the high school team. He is challenged by figuring out the players strengths and weaknesses and determining where they would be most useful on the field.
McDowell's training philosophy is that players need to be strong contributors to the team through skill and physical strength. This years team's biggest strength is understanding the game better than most people do, but their weakness shows in their lack of wanting to pass the ball. Each individual player contributes to the team as a whole. If their grades go down they are not allowed to participate in any of their games, which takes away from the entire team.
The lessons learned on the soccer field can be taken off the field as well.
"Showing respect to each other will get us farther than just doing it yourself," McDowell said.
Coaches give time to the sport just like the players.
Being a soccer coach "Takes away from time with my family but it helps me appreciate the time have with them," McDowell said.
Coach Lane did not play soccer when she was younger, instead she played basketball. She wanted to teach and coach because she likes children and she wanted to pass down the love and knowledge she has for sports.
" I like working with kids; I like watching kids develop and seeing their skills improve. It's just nice to see them improve," Lane said.
"This year's team is really good. They work together and there really isn't an individual out there working for themselves. There are no weaknesses on this team. They're good," Lane said.
Teaching players how to balance academics and playing sports has been Lane's biggest challenge. Learning teamwork, maintaining friendships and dealing with life in general are lessons Lane feels the players can take off the field as well.