Kulp Farm to host seventh grade students in spring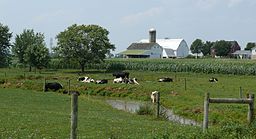 On May 3 of next year all of seventh grade will be going to Kulp Family Dairy in Martinsburg PA. Students will learn about how a farm works and consider the field of agriculture.
The trip will run from 9:30 a.m. to 2:oo p.m.  Principal Lori Mangan advises all seventh grade students to be on their best behavior to ensure they can participate.
This is the second year for this field trip opportunity.  It is unclear the trip will continue in the future.
The farmers themselves will show how the farm works and the equipment they use.
" The Agriculture Committee of Altoona Blair County Development Corporation is sponsoring the trip for all middle schools across Blair County. The only expense we have to pay for is transportation,"  Mangan said.
"We had a lot of fun last year, and it was an educational experience for the kids. I would absolutely enjoy going there again," seventh grade reading teacher Lindsay Zerbee said.