Family run business serves Italian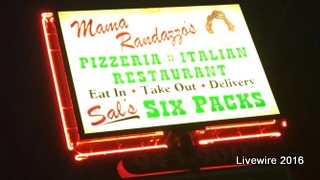 Created by Mr. and Mrs. Randazzo, Mama Randazzo's Pizzeria Restaurant, is a family business with food created from the finest and freshest ingredients.
Mama Randazzo's Restaurant all started with Mama Randazzo, born in Socorso Province in South Italy. While living in Italy, she lived on a farm and learned how to cook the food she cooks now.   During her mid teens, she moved to the Bronx, New York from Italy where she met Mr. Randazzo.  They moved to Altoona with their two children, son and daughter to share her recipes that she made. The restaurant is located at 1600 Broadway in Altoona.
The restaurant is a very family friendly place to eat or order take-out food.  The only thing that isn't family friendly is they do serve alcohol there.  At Mama Randazzo's Restaurant, the menu is made up with the best ingredients. On the menu, they have foods like soups and salads, homemade Italian entrees, burgers and sandwiches, wings, children's chicken fingers and fries. They also serve subs, pizza/calzones/strombolis and many kinds of starter food.  Some of the starter food includes french fries, garlic bread, mozzarella sticks with marinara sauce, onion rings and breaded mushrooms.  Most prices are reasonably cheap but some  cost up to $15-$16 dollars. Most of the items sound interesting and good to try. The restaurant's hours are Monday through Saturday: 11:00 A.M to 10:00 P.M.  Mama Randazzo's also does catering.  
Many people have opinions on what the food looks like and how it tastes.  The food actually isn't good when it has been sitting on a 30 minute wait. People might have to wait 30 minutes or more when they are extremely busy.  They aren't usually busy on the weekdays during the day but are really busy on weekends. The food wasn't that appealing but some of the food was okay.  The lasagna was too saucy and the chicken fingers had a lot of salt on it. French fries had barely any salt on them which caused them to not have any taste.  Some pros about the food are the food looks appealing and the bread for the Strombolis and subs is homemade.  Some cons are they look good but don't taste all that great.  Although some of the food isn't great some recommendations would be the mozzarella sticks, Philly cheese steak, ham sub, grilled cheese sandwich on the kids menu and the spaghetti. Do not get the chicken tenders unless you like them really salty and very crispy.