Cooking with Facts
A blog for those who want the info., the ingredients, and the ideal run-down. Sweet and Simple.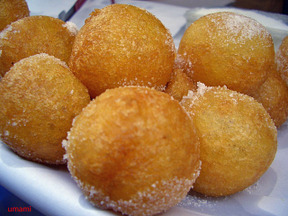 The kindness of strangers never ceases to amaze me. They do not force themselves to do
something like house a stranded traveler that just happens to come by, and that stranger
doesn't just get asked to help with the dishes after a meal with the family that took him
in during the storm; these things happen because of a person's heart and gratitude,
by his or her choice. People decide upon doing such deeds themselves… and it's quite the
joy when one can witness an act of kindness go down.
Now, most people- if not all- may be wondering what that 'slice of life' has to do with a teen's rating and cooking blog. Maybe, also, on how it relates to that blog's recipe and topic of the week: Chinese Donuts. So, allow me to explain; the relationship between all of those items begins on the day I witnessed a young boy of six receive the chance to start baking lessons. It was the only thing he had asked for when his birthday rolled around. It was the only thing he requested on Christmas Eve. His family's poverty, however, took away his chance to do as he wished.
If not for the help of a kind stranger, who just happened to see the boy's feeble attempt at a bake sale to raise money for, at best, one lesson; my younger cousin, at the ripe-learning age of six, got not only a taste of what kindness lies within the world, but also, his very first baking lesson.
Though I don't have the exact recipe for the Chinese Donuts that were the very first item he learned to make, I did happen to find a quite suitable one to try instead.
Found at this link: http://www.handletheheat.com/homemade-chinese-doughnuts/ – The easy to follow recipe with ingredients that many households all ready have was genuinely appealing. 
After testing this Chinese Donut recipe at home, the finished product came out with differing results. The first batch of 4 donuts ended up a bit doughy in the middle, but perfectly crunchy on the outside;  the second of 5 donuts, were too chewy. I came to notice about then, that the recipe- as the author of it had said- resulted in the sweet treats being denser than the ones at a Chinese buffet or otherwise. With the addition of exactly half a packet of Fleischmann,s Instant Yeast, the dough came out much more airy, and overall resulted in a rise of dough amount. With the next two batches- both of 6- the pastries were light and perfectly cooked, and were given an overall 9 out of 10- by average of myself, family, and neighbors.
This 'blue print' for these Chinese donuts by Tessa Arias was delicious (once the frying of said treats was perfected) and I highly recommend that they are given a chance on one's dining table for Thanksgiving, or any other meal-based holiday.
Recipe:
Ingredients
2 cups (255 grams) all-purpose flour
2 teaspoons granulated sugar
1/2 teaspoon fine salt
2 1/2 teaspoons baking powder
6 tablespoons (85 grams) cold unsalted butter, cubed
3/4 cup (170 grams) whole milk
Canola oil for frying
Granulated sugar for coating
Directions
Pour 2 inches of canola oil into a heavy bottomed pot with a deep-fry thermometer attached. Heat to 350°F.
Meanwhile, in the bowl of a food processor, combine the flour, sugar, salt, and baking powder. Add the butter and pulse several times to cut the butter into the flour until the mixture resembles coarse meal. You can also do this by hand with a pastry blender. Stir in the milk until combined.
Turn the dough out onto a floured surface and dust the dough with flour. Gently pat the dough out until it's a 1/2-inch in thickness. Use a 2-inch round biscuit cutter to cut out circles.
Fry the doughnuts a few at a time, being careful not to overcrowd the pot. Fry until golden brown and cooked through, about 2 minutes per side, being careful not to let them burn. Let drain on a paper bag (or paper towels) to soak up the excess grease.
While still hot, generously coat each doughnut in granulated sugar. Serve. Doughnuts are best served the day they are made.
Leave a Comment
About the Contributor
Aurora Soural, Writer
Aurora Soural is currently a ninth grade student at the Altoona Area Junior High School. Aurora's hobbies include reading, writing, drawing and cooking.