Technology and Engineering Department wins award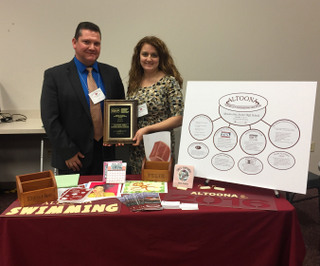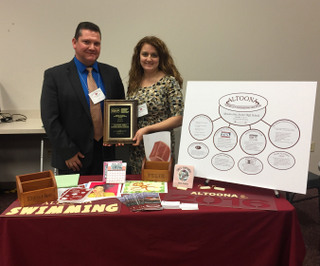 On Nov, 10, 2016 the Technology and Engineering department received the Pennsylvania Middle School Program Excellence Award at the STEM (Science, Technology, Engineering and Mathematics) conference at the Lancaster-Lebanon IU 13. This award recognizes outstanding contributions to education by technology and engineering programs in Pennsylvania and is given to departments that focus on the components of science, technology, engineering and mathematics.
"We were nominated by State College Middle School's Technology Education Department two years ago and then there was an application process that we went through.  During the spring of 2015 TEEAP (Technology Association of PA) toured our facilities and interviewed us for the award, " technology and engineering teacher Rachel Manack said.
The Program Excellence Award provides public recognition on a state level through TEEAP. The awarded program advances to the international conference to receive recognition at the national and international level.
"We will be recognized at the ITEEA (International Technology and Engineering Association) Conference in March of 2017," Manack said.
The Technology and Engineering Department challenges the students through four main laboratory environments. The department consists of four teachers working out of the manufacturing/productions lab, drafting/design lab, engineering lab and multimedia/communication lab. Eighth grade students rotate throughout the semester with the instructor in these four labs working on problem solving based challenges. The eighth grade curriculum is intense and more of an exploratory based course introducing students to the various STEM related areas. The department also offer five elective courses for ninth graders. Select seventh grade students work with the department during team classes.
"We have state of the art facilities that provide students with enriching hands on experiences," Manack said.
The department consists of four teachers: Manack, Tim Dzurko, Eric Kincaid and Todd Pesavento.
The eighth grade class teaches manufacturing which involves machine safety, board squaring process the finishing process machines and creating a project from wood; drafting which involves measuring, drafting techniques, different orthographic and isometric views and traditional drafting tools; engineering which teaches the the flow process, engineering and design process, simple machines, creating a mousetrap cars, robotic kits which are programmed free ranging robots and designing a bridge; graphic design which involves the elements of design, principles of design, material process and creating a customized desktop calendar.
"It is truly an honor to win this award. Mr. Dzurko and I have worked very hard to build the program, and we look forward to what the future holds," Manack said.