Barnes and Noble hosts book fair
The Q-site committee arranged book fair to show school groups to public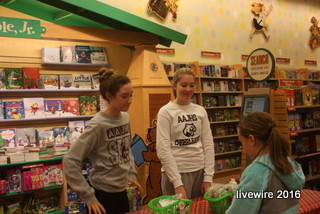 People came to a book fair to see what the school has in store.
On Saturday, Dec 10, the Q-site committee arranged a book fair at Barnes & Noble and had major groups come to the store and interact with customers.
The Q-site committee has been around since Keith and Roosevelt, and the lady currently in charge  isinstructional coach Julie Storm.
"My favorite part would be getting to talk to different people in the community for events,"Storm said.
Vocal ensemble, speech club, chamber orchestra, student council, national junior honor society and the cheerleaders attended the book fair. For some examples, the cheerleaders were face painters and the national junior honor society wrapped presents.
" I was not nervous to paint people's faces because I enjoy doing it," ninth grade cheerleader Kayli Barefoot said.
"It felt nice, it really got me into the Christmas spirit, and got me more excited for the holidays," ninth grade member of the national junior honor society Riley Sipe said.
The Q-site committee has done multiple things in the past for the school other than just the book fair.
"We do all sorts of things. Relay for Life, pink games, selling ribbons, the Martins bonus cards and box tops," Storm said.
All of those events going on with the school wouldn't be possible without the Q-site committee.
"It was started to help get the teachers involved with planning different activities and also to help make the school better in general,"Storm said.
Overall the book fair was a way to get the public involved with the school.
"It was successful in the past and it's a nice time to show off our student groups to the public,"Storm said. "It went really well this year. Lots of kids came and the store was really busy. Hopefully we made a good profit."