Artery Clogger Blogger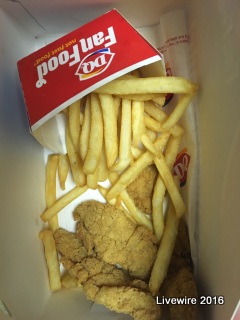 Welcome back my little unhealthy group
Have you ever gone to Dairy Queen and thought about the calorie intake? No, most likely not because their ice cream is so good you do not even care.
I was craving a Dairy Queen's famous blizzard, so I took a little trip to the one nearest to my house.  Dairy Queen never lets anyone down.  Their ice cream and actual food is to die for.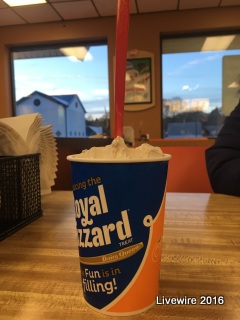 Dairy Queen has the chicken strip basket that is 1,250 calories all together, and alongside was a M&M blizzard that is 630 calories. Making that a total of 1,880 calories.
Conveniently the meal came in a box with a little fry hold that was absolutely cute.  There were six strips with fries thrown everywhere.  It was understandable since it was nearly dropped on the way to the seat.
The chicken basket was one of the best food items on their list.  The chicken was not dry, hard or gross.  It was moist and pretty good.  Dairy Queen's fries are the best.  They are not thick and gross.  They were very savory.
Recently, Dairy Queen has gotten the newest drink machine making it easier to get drinks.  The drinks are like all other chain restaurants, but the new drink machines class it up.
Dairy Queen is known for the blizzards.  If the blizzard falls out of the cup you get it for free.  The blizzard that is the utter best is the M&M blizzard.  It was cool and creamy like they should be.
There are and will never be any complaints when it comes to Dairy Queen.  They mastered the art of making ice cream and making food.  Never doubt Dairy Queen.
Next time you head out to Dairy Queen you should check out their blizzards because they are bomb.