It's Kind of a Funny Story enlightens audiences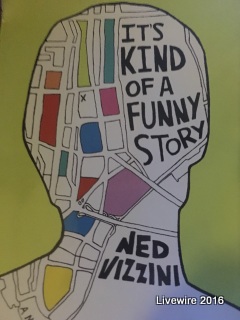 If anyone enjoys reading authors very similar to John Green then Ned Vizzini is the man to choose. People who like books about serious things but with some jokes would love this book.   It's Kind of a Funny Story is a book written by Vizzini days after he was in a psychiatric hospital.  
This novel is split into 10 parts. The book is in the main character, Craig Gilner's, point of view.  Gilner had a hard time dealing with his depression.  He was in a part in his young life where he just wanted to kill himself and dreading all aspects of life.  This all happened right after being accepted into one of the best schools in his area.  At first, Gilner was so excited to get accepted into this great school since he spent hours upon hours of studying, and acing the test to be in it.
Craig strongly believed he had nothing to live for since the girl he liked, Nia, was happy with his best friend. He then realized he needed help and called a suicide hotline which told him then to go to the nearest hospital.  He goes to this hospital and has to stay there a minimum of five days to make sure he is stable enough.  While in the psychiatric ward, he meets many of the characters that are there for a lot of reasons and befriends them all.
The best part of the book is when a patient in the psychiatric ward comes rushing into his and Craig's room while Craig is in the room with a girl.  It was funny because he said "women are temptresses" and kept shielding Craig from the girl he was with.
The book was an actual amazing piece of literature and anyone with problems can relate.  It could potentially help people and has a great message in it: get help if you believe you need it and to live.  It was one of the best books that was picked up.
The ending of the book was not the best of all endings.  It could have gone a little farther and could have said a little bit more to continue what happened after his stay in the hospital.
The story's characters were very credible. The characters told everything they had to tell in the story and towards the end all of the truths had come out.
This is a terrific read for teenagers and anyone who enjoys reading.  It was very well written, and it was just a great book.  It it very funny at times, and it gives the point of view from a character from a young adolescent who has many issues with his life.  The point of view gives some insight into what it is like to suffer from mental illnesses.  The secondary characters give other insights of the other types of mental illnesses that people could possibly have.
It's Kind of a Funny Story would definitely be a five out of five stars.