Artery Clogger Blogger
This week's restaurant is Papa John's I will be going to different restaurants around town and eating food that has as many calories as possible. Health nuts beware.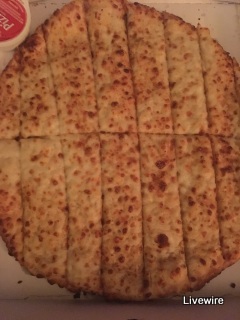 Papa John's is a chain restaurant that is in nearly all 50 states in America. Papa John's opened in 1984 meaning that it has been open for 32 years.  It was originally in part of his father's tavern.  It has come so far from being in a tavern to being its own chain.
Papa John's is one of the places in Altoona to get good pizza along with their other menu items.
I believe it is an okay place to go, but their cheese sticks are the best thing that has ever been invented!
This little tale begins with the longing of cheese sticks, so Papa John's was ordered.  Sometimes you just need to relax and eat some cheese sticks.
A slice of pizza with just cheese is 210 calories.  Also 12 cheese sticks is around 110 calories. Making that around 330 calories.  That is only around 330 calories which is not a whole lot.  Tons of places have food items that are so many calories in one sitting.
I personally love Papa John's.  Their pizza is really good, the staff is kind and all the food looks appealing.  Some pizza places locally are just sloppy and try to rush their food.
I just wish I would have gotten more when I went out to get some food.  Next time you go try their desserts because they are also super good, and never ever let anyone down.