Wrestlers working up to championships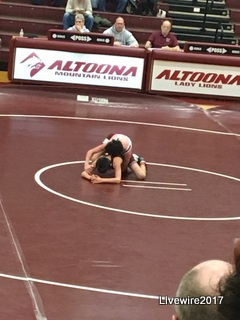 The wrestling season is coming to an end with a record of 12-5, however their last match will be in the beginning of March.
The last few matches the wrestling team competed in added two wins and two losses to their team's record.  On Jan.11, the team lost to State College by a score of 64-39 at home while they had won against Hollidaysburg and Huntingdon away on the days of Jan.17 and Jan.19.  The team also lost to DuBois on Jan. 24.
They practice for hours to maintain and keep the momentum going to add more wins to their record instead of adding more losses.
"We practice five days a week for three hours after school. We go over what we messed up during a match and go over new moves, but on Friday's we do conditioning and play a game of dodge ball which is helping the team bond well together," ninth grader Jonathan Killinger said.
The wrestling team includes all grades seventh through ninth. The ninth grade students know about the wrestling program/team because they would have been here the longest unless some ninth graders just joined the wrestling team as well.
"I have wrestled for one year now because I thought I would give it a try to see if it was fun or not," Killinger said.
Some students believe that this year's wrestling team is doing better than last year's or any year before that.
"I would not know seeing how this is my first year with this group but I heard many good stories about the team so I think we are doing just fine in general," Killinger said.
The wrestling team hopes to win as many matches and will be able to participate in the championships.
Championship matches that they can compete in are the District 6 team duals, PIAA team dual, NW regionals and the PIAA state championship.These championship matches will start Feb.4 and will end Mar. 9-11.
"My main goal was to try this sport and see if I liked it but I have progressed in it so much I would love to participate in the championships," Killinger said.
Some of the players have advice to give to students next year that want to join but are afraid to.
"I know it is kind of scary to think about but in reality it is pretty simple. All you have to do is stay on your feet, go out there and do your best, think about the size of the opponent later and worry about going out there for your dreams and don't let someone's masculinity determine your future," Killinger said.
View Comments (2)