There's more to scheduling than what students see
A behind the scenes look at what really goes on with scheduling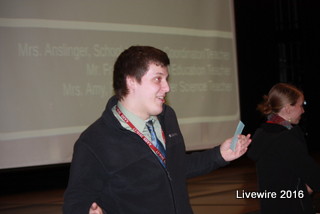 Eighth graders know the basics of what goes on when they are choosing electives, but what some may not know is what happens during the summer while students are on vacation.
First, students get a spreadsheet that lists all of the electives they can take, but what happens after it is filled out?
"Mrs. Yahner and I put everything in the computer that the students choose, and then when the principals are done assigning all the sections, if some sections get overfilled then we just start taking students out. It's no order; it's just random," Luciano said.
Furthermore, the recommendations also have a say in what electives certain kids can take. For example, if a student in level two would want to take a language, they would have to get recommended by their English teacher depending on their grade.
"I'd look to see that they have strong writing skills. The writing should consist of strong grammar, and it should be focused and organized. Another factor is the attendance of students who want in English electives because most deal with responsibility in school,"eighth grade English teacher Mariam Colledge.
After all the recommendations and papers are turned in, counselors are working to put students into their respective courses. The computer program they use is Skyward.
The teachers and counselors have to think about more than just the placement of students. They have to keep in mind the students interests and how they can help them pick classes.
"We want them to choose something they like and think about what career pathway they might go down, so scheduling is very important if you think about it in that regard," Luciano said.
All the counselors want is for students to go down the fitting pathway as clearly stated by Luciano, so what are some tips to achieve that goal?
"Care more about your ninth grade year and pick a class that you've already looked into because it is difficult to get your schedule changed. Also, don't joke around and have thoughtless processes to get the job done," ninth grade student James Rickabaugh said.
At the end of the day, most students don't know about the way things happen behind the scenes, but the counselors and some current ninth graders are willing to help out and show students the ropes.