Student council hosts multi grade level dance to benefit Cereal Box Project
The all school dance is this Thursday.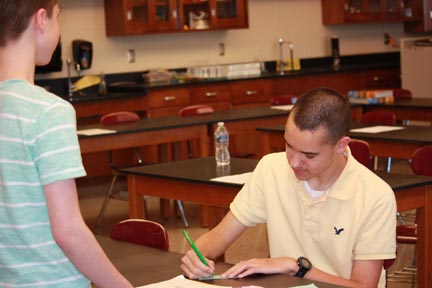 This Thursday will be an all school dance. The all school dance will be Feb. 16  for grades seven, eight and ninth and all proceeds will benefit the Cereal Box Project of the St. Vincent DePaul food pantry.
This dance has been introduced many times in previous years; however, not many students bought tickets.
"Student council has been trying to have dances for years, but kids just don't buy tickets. We think this year's group of students will be ready to dance the night away with friends because kids are always looking for something to do and somewhere to go. Student Council is excited to provide that," ninth grade student council adviser Jessica Hogan said. "This dance was first created to give kids a fun night out with friends of all grades. I have great memories of junior high dances, and I think that this generation is ready to have those memories."
Many students have expressed excitement for this first time dance opportunity.
"It'll be cool to go to a school dance and hang out with friends," seventh grader Madison Cabell said.
"I've never been to a dance like this, and I feel like it will be lit," eighth grade student Mychenze Alberts said.
"I'm excited to go because it is casual wear so you don't have to dress up or feel pressured to find a date," ninth grader Jacob Reed said.
Hogan and her student council students will be running the dance. Each student council member is to attend the dance and bring two friends along.
The dance will be from 7 p.m. to9 p.m., and there will be no school the next day due to the holiday.
"Kids don't have to worry about having to go to sleep right after the dance for school the next day,"ninth grade student Aunyah Kennedy said.
The all school dance, as previously mentioned, is not only for the students. All of the profit made from the dance is for the Cereal Box Project of the St. Vincent DePaul food pantry.
"Mrs. Judy Savine volunteers at the food pantry and one thing families in need have a hard time buying is cereal. Savine decided to go to schools to get "kids helping kids,"which is her motto. She usually collects cereal boxes from schools, church groups and the community. We knew the AAJHS generosity would overwhelm us in space, so we are making a monetary donation which she will use to buy cereal," Hogan said.
In conclusion, the all school dance is on this Thursday , and student council hopes for good attendance.
"It's a win-win for everyone! Fun night out for students and helping people in need in our community," Hogan said.