Artery Clogger Blogger
This week's restaurant is Texas Hot Dogs I will be going to different food places around town and eating food that has as many calories as possible. Health nuts beware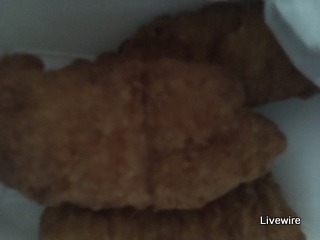 Texas Hot Dogs has been around for about 95 years.  It is a family owned restaurant in our small little town.  
Texas Hot Dogs is a small cozy place that welcomes anybody to come in and try their all time famous hot dogs.
They have a variety of hot dogs to choose from.  Personally, hot dogs are not the best things in the world since nobody really knows what is inside of the mysterious food, so it is just safer to stick with the average chicken tenders.
This little tale begins with chicken tenders, and cheese balls paired with a drink of root beer.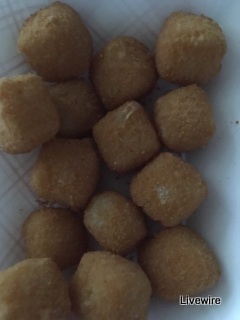 The normal chicken tender is about 185 calories.  This means if a person eats four chicken tenders that is about 740 calories that a person would be eating in one sitting. Then there are the cheese balls that are 165 calories per cheese ball.  If a person eats 12 cheese balls that is 1,980 calories.  An average large root beer is about 310 calories.  Added altogether that is about 3,030 calories!
Chicken tenders are always a fallback item to order, so of course they were ordered. The chicken tenders were kind of iffy at first because they were dry.  Then the chicken began to be juicy and actually pretty good.  The chicken tenders just pulled apart.
Cheese balls will always be an amazing side dish to go along with nearly any food.  They are just so small and cheesy.  They just pop into your mouth and are so good it is unbelievable.
There is finally the drink.  Root beer is not the best drink there is, but it does quench thirst no matter what.  It was cool, and helped wash everything down so not much to really complain about the drink.
Although most people would come here for hot dogs give the place a chance for some other fast food options.  The chicken tenders was pretty good, the cheese balls were bomb and the drink was also pretty good.
Texas Hot Dog is a recommendable place for people that love hot dogs.  They also serve other types of foods.  They serve fish sandwiches, steerburgers and various sides.
Give it a shot if you are in the neighborhood!