Artery Clogger Blogger
This week's restaurant is Long John Silvers I will be going to different food places around town and eating food that has as many calories as possible. Health nuts beware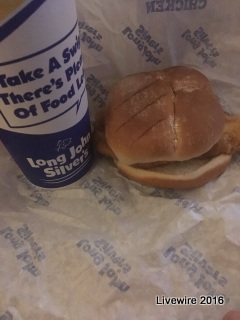 Long John Silvers was established in Lexington, Kentucky in 1969.  That was 47 years ago.  Jim Patterson is the founder of the amazing establishment. Years later the business was sold out to a new group of owners.
Long John Silvers is known for their fish.  And with Lent this time of year many are seeking out places for fish dishes.  The fish here is quite good, and it is worthwhile.  They have a variety of other things to eat on the menu that are also pretty great.
This week's adventure involved an order of a Ciabatta Jack Fish sandwich, fries and a drink.
The Ciabatta Jack Fish Sandwich has 550 calories. There also was the side of fries that contains around 350 calories. Then there is a large Pepsi that is 500 calories.  Added all together that is 1,400 calories.
The Ciabatta Jack Fish Sandwich sounded iffy.  It did not seem that appetizing really.  It looked a little too fishy.  The sandwich was foreign, but it needed to be tried.  The bread was very soft, and the fish was crunchy.  It was a good combination.  The bread was sweet, and the fish tasted like fish. It was decent.  Not the best thing that was ever eaten, but it was pretty decent.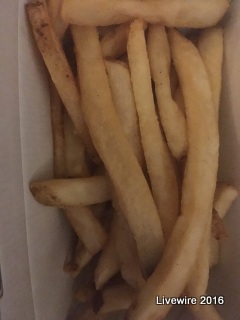 Fries are bomb.  They always are almost great.  Long John Silvers has alright fries.  They are a little too soft, and not crunchy enough.  It was kind of sad, but they were salty enough so that was pretty great.
This time Pepsi was ordered since Long John Silvers sadly have Coca-Cola.  The Pepsi was pretty great, so there is no complaint here.
Long John Silvers is always a recommendable place because its food is really good.  It is always a great place, and hopefully will always be one.