Miss Bauer in Greece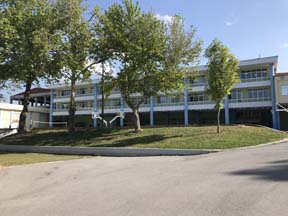 A Ninth Grader is a Ninth Grader No Matter the School
After being in both private, Greek primary and secondary schools for a week and a couple of days, I'm beginning to notice differences and similarities between Altoona Junior High School and De La Salle College. It's strange to me how much I think about my Altoona teaching experience, as if it were my first boyfriend that I keep comparing each and every experience that I will have from here on out. Either way, it was a great "first boyfriend" and I'm thankful to have had such a great first experience to look back on.
Some of the main similarities between the schools would be teacher expectations and ninth grader's behaviors. The private school where I am teaching has high expectations for their students, similar to the expectations given at AAJHS. Students are monitored closely and teachers often check in on student's progress to make sure they are on track. At Altoona, teachers are very much encouraged to do the same for students that might be falling behind in their classes.
This past week I had to give the ninth grade students their English speaking practice exams (ECCE) to help them get ready for the actual speaking test in May. Four students were supposed to meet me in the classroom, prepared, with the proper books in their hands since they had specific time slots. Like many ninth graders after a long two-week Easter break, they were still recovering from all the time they spent sleeping and watching Survivor (they all love that show) and did not come prepared in the slightest.
*Takes deep breath* Ok, this is very similar when I had to let students run to get their To Kill a Mockingbird books every. single. day. Phew, I am prepared!
I have also noticed that many ninth graders (14 and 15 year olds) here are shy at first, and then blossom and begin to talk and talk and talk and talk. Once out of their shells, there is no way of getting them back inside of it (A curse and a blessing).
It's comforting to see these similarities between the two schools. Often I think about my AAJHS ninth graders and miss them dearly, even though they did drive me a tad bit crazy here and there. I mean, how can you forget the students that helped to shape your first ever teaching experience? You simply cannot.
But anyway, De La Salle definitely has some clear differences between the two schools, specifically with structure in the classroom. It seems that teachers do not always work bell-to-bell and have a more laid back personality in the classroom. This depends on the teacher, but sometimes students are not reprimanded for talking as often as we do in the states. The teacher just talks over them. Other times, the teachers authoritatively raise their voices. I think the reasoning behind this mostly stems from the freedom that private schools are given. Since it is a private school and not public, the head teacher and supervisors can run the school, for the most part, by their rules and regulations.
The teachers also have clear relationships with the students, whether that's in the classroom or one on one for tutoring during breaks throughout the day. Teachers are not afraid to have these relationships with the students and vice versa. Often times in the states teachers are warned of having too much of a relationship with their students and are encouraged to keep the authoritative divide clear.
Another difference that I've noticed in almost every classroom is that each lesson is lecture-based and students are always in rows. My Altoona students should be very grateful their teachers give them plenty of activities to help them move around the room! It blew my mind to see this kind of teaching, but also made me curious to see how I could incorporate my teaching knowledge into the classes at De La Salle. Until next time!