Artery Clogger Blogger
This week's restaurant is Perkins I will be going to different food places around town and eating food that has as many calories as possible. Health nuts beware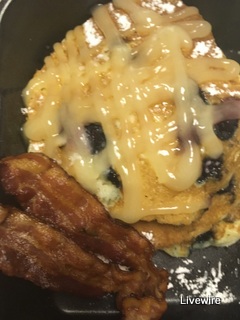 Perkins opened in 1958 by Matt and Ivan Perkins.  It was originally a pancake house.  It was changed to "Perkins Family and Restaurant" in 1987.  
It is a great franchise that dishes out some pretty great food. It is pretty amazing.
The trip to Perkins is a great tale. It began with a hunger for pancakes. Perkins has always had the best pancakes.
This ended up with the Lemon Blueberry platter being ordered, along with a drink and a muffin.
The platter is around 1,060.  The Coca-Cola is 200 calories.  Then the blueberry muffin is 600 calories.
The platter consisted of three components:  three pancakes, two eggs and two pieces of bacon.  The pancakes were very large with lemon drizzled on top of them. The eggs were served sunny side up, whatever that means and the bacon was just bacon.
The pancakes were the starting point of this adventure. They were blueberry with lemon drizzle on top of them. Pancakes with blueberries are the best thing ever.  The pancakes were fluffy and light. The blueberries were fresh, and made the experience great.  There was also twinberry syrup available to drown the pancakes which can help add to your calorie count. It was an amazing experience.
Eggs personally are not an all time favorite.  Whatever sunnyside up is did not seem that appetizing, but it needed to be tried.  As expected they were gross, and not worth it at all.  
The bacon was pretty good.  It was very crispy and salty.
Every once in awhile people need dessert.  That is why there are muffins. It was also fluffy and sweet.  It was worth the whole trip there.