Student clubs seek members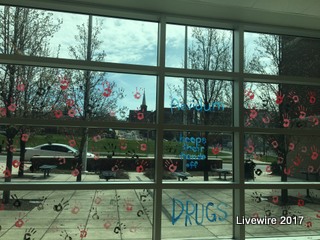 Walking in on the first day of school, students have a variety of clubs to choose from. The school has many diverse clubs; however, some are not as well known to the student body. These clubs are Future Business Leaders of America(FBLA), Chess Club, Aevidum and Circle of Friends.
The combined number of students in all four clubs is 82 out of 1,769 students in the school.
One of the clubs, FBLA is preparing students in grades 9-12 with careers in business. In FBLA, the members usually do acts of community service like arts and crafts with little kids and delivering cards to the elderly. The FBLA Club  also goes to different business schools. At the business schools the members of FBLA can sit in on some of the classes so they can see what the classes are about. Students at the business school allow gap sessions where they will explain what classes they took in high school that helped them with their classes they are currently attending in the school.
"Each FBLA member will learn to lead, develop friendships, gain experience and participate in community service projects," seventh grade teacher Susan Perehinec said.
"If you want to take the business classes next year you can get a head start by joining it now," ninth grade student Laurelee Savino said.
Chess Club teaches students the basic fundamentals they will need to further careers that deal with the high level of thinking and strategy involved.
"I think others should join to be able to meet new people and to maybe calm down after a school day and challenge themselves," seventh grade student Emilee Defrancesco said.
"Students should participate in Chess Club if they like to play chess and hang out with friends, while students are encouraged to participate if they want to learn how to play, " eighth grade teacher Wes Rogers said.
"I joined because I love playing chess and wanted to see if I could learn how to play better," Defrancesco said.
Chess club participates in tournaments with other students. This club is open to students in grades seven through nine with all experience and ability levels.
Also available to students in seven through nine,  Aevidum Club challenges students to use their talents to become community and school advocates for themselves and their friends.
The Aevidum Club has a mission to create a community of leaders who care about the well- being of fellow students where students feel safe and follows the motto, "We've got your back".
"I think students should join Aevidum because it is a great opportunity to promote positivity in the school and all kids with all kinds of talents can be involved," ninth grade teacher Autumn Barry-Kyle said.
"It's fun and you can work with fun people; also you get to have a lot of fun putting sayings on papers and putting them on random students lockers," ninth grade student Hanna Riley said.
"Students should join Aevidum because it gives them an opportunity to value other human beings and treat them the way that they would want and it is good to know that others do care about you, " seventh grade teacher Amy Palfey said.
In the meantime, if students do not find Aevidum catching their interest, there's always Circle of Friends.
Circle of Friends functions to primarily support and encourage activities and communication including students with special needs.
Their goal is to foster friendships between students with and without disabilities.
"Because it is fun, we eat a lot of pizza, play a lot of games and crafts and most importantly make new friends," eighth grade teacher Shannon Elder said.
Leave a Comment
About the Contributor
McKenzie Quirin, Writer
McKenzie Quirin, a ninth grader at Altoona Area Junior High School, loves to take pictures of her friends and the sky/surroundings.  She loves to hangout...