Artery Clogger Blogger
This week's restaurant is Kentucky Fried Chicken I will be going to different food places around town and eating food that has as many calories as possible. Health nuts beware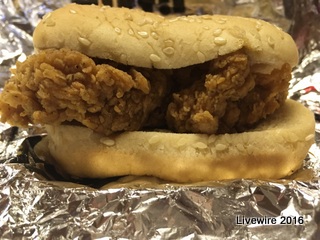 Kentucky Fried Chicken was founded by Colonel Harland Sanders.   He would cook fried chicken from his restaurant during the Great Depression.  The Kentucky Fried Chicken Franchise opened in 1952. It has been around blessing people with its food for 65 years.
Many people wonder why Harland Sanders was called colonel.  Why he really a colonel? No, Sanders was not a colonel.  It was just a nickname from Ruby Laffoon, the 1935 Kentucky governor.
This little food trip begins with a hankering for KFC, as it is famously known. A large drink, two chicken littles, wedges, and cornbread muffin was ordered this time.
Just one chicken little is about 320 calories meaning that two equals a total of 640 calories. The wedges are 270 calories for one order.  One cornbread muffin is 210 calories.  If a person eats two cornbread muffins that is 410 calories. A large mountain dew is 410 calories.  All together that equals a total of 1,730 calories!
The chicken littles are very small if a person could not tell by just the name.  It looks very small and even cute. They were very crunchy and juicy.  They were not the best item, but KFC is not the best either. It was pretty good considering the fact that KFC does not always "deliver" as people say.
Wedges are a blessing to everyone. KFC has the best wedges ever. They are well-seasoned and crunchy.  Crunchy is a good thing when it comes to side dishes like wedges. They are really bomb and a definite recommendation.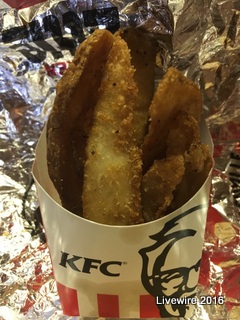 Then there is the cornbread muffin.  It is a crumbly muffin type of thing that is alright.  Not the best thing if a person is not into crumbly things since it can be kind of messy.  
Overall Kentucky Fried Chicken is a decent place to eat.  It has some very good items on its menu and most of them should definitely be tried.