NJHS mini thon raises money for backpack program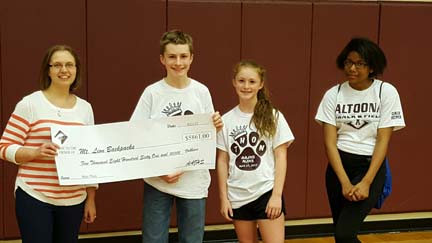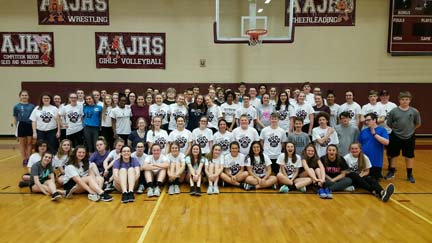 For the National Junior Honor Society group community service project this year, the fourth annual mini-thon was held to raise money for the Mt. Lion Backpack Program.  This program provides backpacks to local elementary students filled with two breakfasts, two lunches, two dinners and two snacks.  This program was developed to assist families suffering from financialhardships.
At the mini-thon, students had their choice of dancing, playing basketball, jumping rope, walking, playing ping pong or playing badminton. The students collected pledge donations to remain active for four hours from 5:00 pm to 9:00 pm.  T-shirts were also sold prior to the event with all proceeds benefiting the backpack program. The students were able to raise $5861 for the Mountain Lion Backpack Program!
Joe Saylor dominated both 4v4 badminton tournaments. In the first tournament, he teamed up with Shannon Schmitt, Dom Fasolo and Kaden Hileman. In the second tournament, he still couldn't be beat with the help of Tyler Long, Sean Stuttard and Mason Criswell. In the other gym was an intense 1v1 ping pong tournament with Dom Fasolo as the winner. Throughout the night, Stevie Webber jumped her way to the top to win the jump rope contest. Connor Bradley won the limbo contest. Bre Mesmer and Dom Fasolo knocked out their competition in two games of Knock-Out, and Jolee Smith out hula-ed everyone to win the hula hoop contest.  The students had a great time while helping a worthy cause.