Ninth graders dissect frogs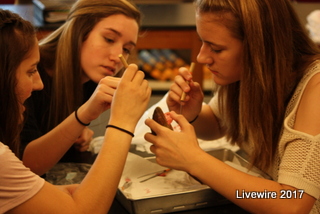 In ninth grade classes there are various dissections of different things. In biology classes there are different dissections depending on the teacher. Some dissect things like crayfish, frogs, worms, flowers, owl pellets and beans. The human Systems and Disease class  also dissects things like fetus pigs, eyeballs, etc. Dissecting is a way to learn about things by cutting them open.
"We dissect frogs because they are the closest anatomically to humans," ninth grade biology teacher Jessica Hogan said.