Students recognized at awards ceremonies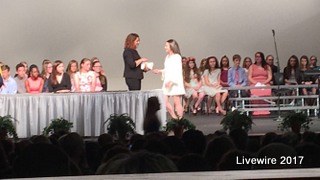 During the month of May, students in grades seventh, eighth and ninth are recognized for the work and effort they put into the school year. They were recognized through a ceremony with many awards students can obtain on the days of May 2, 3 and 24.
Students like Julia Pitts and Chelsea Mathieu received awards for their core subject work.
"I felt proud of myself for winning the A pin and the civics award. All of the hardships I've been through this year were worthwhile. Being handed an award and the congratulating handshakes make me feel pure happiness," Pitts said.
"I felt great, and it was my first actually. I got an A-pin," Mathieu said.
"I felt they were fair and well given out," Raechelle Watkavitch said.
Along with the ninth graders, seventh and eighth grade students spoke up about their feelings and thoughts towards their individual ceremonies.
"I felt honored and pretty good, and I knew I was getting them," eighth grade student Karenna Kauffman said.
"I was very pleased with the awards that I received. I accomplished my goal that I was striving for all year and it made me feel relieved that I was able to achieve my goal," seventh grade student Elly Eisel said.
"I am humbled and honored to receive reward and I hope to maintain the same performance, if not better," eighth grade student Grazia Macharola said.
Students can maintain their grades in different ways throughout the year to obtain these awards.
"Just keep doing the homework they give me and keep up my grades," Kauffman said.
"I had to work hard in all of my classes and meet the requirements of getting good grades in order to achieve the awards I received," Eisel said.
"I worked hard and stayed focused on my school work and when times were tough I remembered my goals," Watkavitch said.
"I obtained these awards by trying to achieve your highest goal in the curriculum activity and attendance," Macharola said.
Due to inclimate weather the ninth grade awards ceremony had to be rescheduled from Monday May 1 to Wednesday May 24. Every awards ceremony was held in the auditorium of the school at 6 p.m.
With this in mind, ninth grade students had various thoughts about the ceremony change. K.C. Kantz filled in as guest speaker when scheduling conflicts occured.
"I feel like it was a huge jump between dates and it messed some things up like the special speaker, but overall it was a good night," ninth grade student Pitts said.
"Upset that we had to push it back, but it all worked out," ninth grade student Watkavitch said.
"I thought it was very nice and a great way to celebrate everyone's achievements for the year," ninth grade student Raquel Dunio said.
"I thought it was for the better and it's better to be safe than sorry," ninth grade student Mathieu said.
At the start of the awards ceremony, the choir for all of the grades sang The Star Spangled Banner and then the main principal and the guest speaker spoke to the audience.
Once the guest speakers finished their speeches some of the awards were then handed to all the students obtaining that award and the grade level choir followed with their chorus selections.
After the chorus selections the rest of the awards are given to the students.