The Diary of an Oxygen Thief steals attention
This book should be read by more mature adolescents since it does has some "graphic" material in it.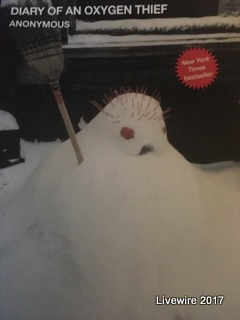 This novel is written anonymously..  It is an unique story that gives a different viewpoint than the average "love stories" with the most tragic endings.
The narrator of the story tells the tale of his alcoholism and his mental abuse of the woman he used to date. He then realizes he wanted to quit his addiction: it was an epiphany.
This novel is told from the point of view from the narrator, who the audience does not find out his name.  The audience is also introduced to some other secondary characters, but towards the end they are introduced to the main reason the novel was written, Aisling.
Aisling is introduced towards the end of this short novel.  She is Irish, and the ideal of perfection from the way he, the narrator, describes her.
This novel was serious with a touch of humor sprinkled throughout.  This man was telling his life, but maintained to make his darkest moments a little less dark with his own way of comedy.
It gave a completely different point of view than most of the common stories that are popular amongst the teenagers of this generation.  It gave the side of a man who purely enjoyed hurting women and then how Karma gave him a taste of his own medicine.
The Diary of an Oxygen Thief is a great example of why people should not use others for pure pleasure. It helps people learn that they should be conscious of the decisions they make.
The novel has some promiscuous moments. The book should be read by more mature teenagers who are capable of handling the scenarios that are presented to the readers.  It could be too much to handle for younger ages.  
The Diary of an Oxygen Thief is a great book.  This novel can have some vulgar moments at times with the somewhat consistent swearing.  It has humorous moments on top of all the dark times that the narrator presented.  
This novel is a definite recommendation.  It is such a great story that gives a different standpoint. It is written like a memoir which is very unique compared to the more popular literature available.