Brian Morden Foundation recognizes gold winning school
Last year the Altoona Area School District lost two more students, Emma Auker and Kiera Chirdon, to childhood cancer. In support of Childhood Cancer Awareness Month and in collaboration with the Brian Morden Foundation,
AASD students exercised and "count their steps" during September not only to develop healthy lifestyles but also to help bring awareness to childhood cancer. The junior high students won the contest on  September 10 at Mansion Park.
Students logged steps using smart phones. Those without smart phones sent information to building principals. The Brian Morden Foundation recognized the junior high as the gold wining school at the AAHS Mt. Lions Gold Ribbon Game on Friday, Sept. 22 at Mansion Park Stadium.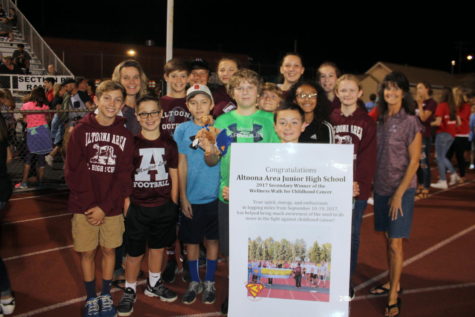 Leave a Comment