Spirit week inspires twins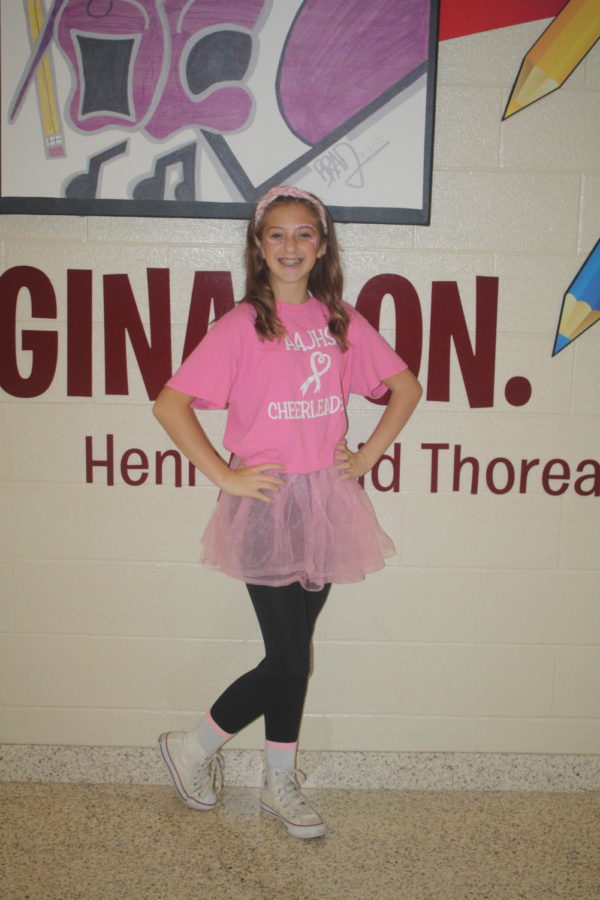 Students and faculty all celebrated spirit week from Oct. 9-13. 
They expressed excitement as they participated in each theme day. Red, white and blue day was Monday, twinning day was Tuesday, color war was on Wednesday and pink out was Thursday.
"I thought that ninth grade would win the color war because they have a lot of maroon," seventh grader Harley Love said.
Love participated in all days, including twin day in which she twinned with three of her friends.
"I'm twinning with Gavin Feathers because we had a football game after so we wore our throwback shirts," seventh grader Hayden Fetter said.
Fetter only participated in twin day, but loves the idea of spirit week.
"It's a great way of showing your school spirit. Plus, it's really fun," seventh grader Brianna Sings said.
Sings is new to the school and has already gone all out for every day.
"I think it's fun and enjoyable to be able to support your school in a creative way," seventh grader Haley Zeth said
Zeth is in seventh grade and enjoys participating in the spirit week, in hopes to see it come back next year.
" Yes, they did really well, I think," eighth grader Debbie Wetchey said.
Wetchey seemed to be interested in how a lot of people participated each day during spirit week.
"I think we are doing much better as a whole," eighth grader Abby Smearman said.
Abby showed her spirit by participating in red, white and blue day.
"I showed more spirit because there wasn't a twin day, and I didn't have these clothes last year," eighth grader Mike McCloskey said.
McCloskey and his friend twinned all the way down to their hairstyle.
"I like twinning Tuesday because we've never done it before, and it's really fun," eighth grader, Karley Grossman said.
Grossman loved twinning tuesday and hasn't experienced anything like it before.
"I personally thought seventh would win the color war by a landslide because almost every seventh grader I've seen had white on," ninth grader Makayla Stevens said.
Stevens showed her pink out spirit at school and at the game as she cheered on the freshman football team.
"I'm twinning with my best friend, Morgan Keith, because we have the same shirt and I love her," ninth grader Shaylee Risbon said.
Risbon twinned with her best friend, down to the fuzzy socks and the grey and blue crocs.
"I'm twinning with Mychenze, because she is my best friend and I love her a lot," ninth grader Eryka Moss said.
Moss's participation has increased greatly since she first arrived to the school in 2015.
"It took us one meeting to figure out what colors we would wear, it took about two weeks to come up with all of it," ninth grader Piper Vallei said.
Vallei is committed to student council and helped contribute to the ideas of spirit week.
"Yeah, we're doing a lot of stuff with holidays. Costume day, decorating trees and decade day is what we came up with so far," ninth grader Rylie Whitaker said.
Whitaker is also involved in student council and loves the new ideas they're coming up with such as decade day.