Guest speaker Gerety visits field house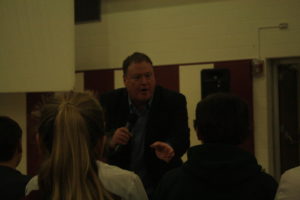 On Nov. 29 , author , youth speaker and entrepreneur Ed Gerety came to speak to the Altoona Area High school and ninth grade class. He has taught over 2 million students and has traveled to all states including Canada.
Gerety brought up points about respect , character , gratitude , leadership, attitude and making a difference. His speeches are focused on education , inspiration and a lasting impact. Gerety added his own sense style to help kids relate to his topics.
"He added funny stories about other students that made me laugh," ninth grader Brady Shehan said.
Gerety also covered the topic of bullying.
"We need to remind ourselves that we don't know everyone's story," Gerety said.  
Research shows 3.2 million students are bullied each year. Speakers like Gerety hope to decrease this number and spread awareness.
Gertey is also the author of two books. Combinations is about opening the door to student leadership. And his second book "College Crossroads E-book" is about finding a way to a successful first year in college.
"It is important to get the point across that everyone is important in life, and you shouldn't take anything for granted," ninth grader Ryan Naglowski said.
Gerety also encourages students to strive to reach their goals, as well as to help others reach theirs.
" Lead your life with gratitude and stand up for your greatness as well as the greatness of others," Gerety said.
Gerety received his Certified Speaking Professional designation at the National Speakers Association Convention in Atlanta, Georgia. Certified Speaking Professional (CSP), is an honor held by less than 10% of speakers who belong to the International Federation of Professional Speakers.
"I liked Mr.Gerety. He seemed cool and he knew what he was talking about," Naglowski said.
Gerety has been traveling to schools to address the issues of improving schools' climate as well as the morals of students, teachers and peers. He enjoys helping others reach their full potential and has made long lasting relationships with clients. Gertey hopes one day for world peace as well as peace in schools.