Wrestlers tackle tournament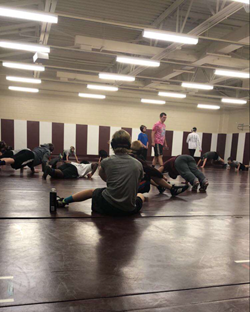 The wrestling season has officially started. The wrestlers traveled to Huntington on Sat. Dec, 9. The wrestlers practice everyday after school until 5:30 p.m. The wrestlers placed fourth out of 16 teams at the Bearcat Classic Tournament. Eight of the wrestler's placing.
Seventh grader Patryk Webster is doing his first year of wrestling.
"Going places with the team is my favorite part about being a wrestler, I went to the Huntington Tournament over the weekend with the team and placed sixth," Webster said.
According to Webster, he believes that the team is in pretty good condition, and they're working hard.
"The improvement I want to make for myself this year of wrestling is to get stronger; our team is pretty good together already, so I don't know any improvements as a team we would need to make," said Webster.  "I'll win some, I'll lose some. It's my first year I don't expect to win all of the matches," said Webster.
Almost all wrestlers have a favorite move to do while wrestling an opponent. Webster's favorite is called the half nestle.
"I like doing the half nelson, it's when you put your arm under the other person's arm and then you wrap your arm around their head," Webster said.
The wrestling team also has three managers. Ninth grader, Olivia Plowman is on her second year of managing the wrestling team.
"The hardest part about managing the team is keeping them in line whenever they get out of hand," Plowman said.
According to Plowman, the managers get together to try to keep the positive vibes up during matches so the team doesn't get discouraged.
"I feel like I motivate the wrestlers because I try and help them as much as possible and cheer them up when they lose," Plowman said.
"Going on away matches and tournaments with the team is by far my favorite part of the whole wrestling season; everyone loves that part of it," Plowman said.
The wrestling season is far from over.
The match that was scheduled on Thurs. Dec, 14 against Tyrone has been cancelled due to a snow day. The next match will be on Tues. Jan, 16. against Hollidaysburg.