Ninth graders compete in winter track meet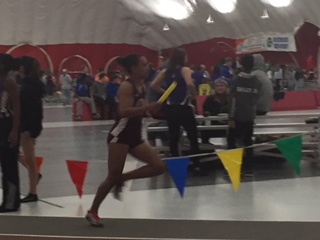 On Jan. 18, 2018 the winter track team went to Penn State to compete. They competed against schools such as State College and Hollidaysburg in a number of events.
"I was very excited to compete because it gave me the opportunity to show that all the work I've been putting in is making me better," ninth grader Jack Hatch said.
Only three to four athletes get to compete in each event, so about thirty people get to go.
Head Coach Mike Adams decides who goes based on previous races and how hard each person works at practice.
"I was nervous, but this time I wasn't as nervous because I had run on this track before, so I was excited to see if I could do better," Hatch said.
The Penn State track lifts off the ground and curves at a slightly raised angle at the turns.
"I think I did good because I had a major PR in the mile," Hatch said.
PR stands for personal record, which is an individual's best performance in any given sport.
"I ran the 1600 and the 3000," Hatch said.
The 1600 is the mile and the 3000 is a two mile that is short of 200 meters.
"Competing at the high school level made me feel like I have a lot of responsibility I need to step up to," Hatch said.
Freshmen, sophomores, juniors and seniors all compete at the high school level.
The winter track teams next meet is on Feb. 8, 2018 at Penn State University.