Scrumpdidliumpcous
On this blog I will make a different dessert every week and share my experience with it, the recipe I used and whether or not I thought it was good or not.
This week on Scrumpdidliumpcous I will be discussing my experience in making red velvet cake pops. It is the time of the year when love is in the air, so I thought these would be perfect.
First I made the cake mix according to the package directions. I made two of the cakes, so I had to double the cake recipe. Once I was done mixing, I poured half of the cake mix into one cake pan and the other half in another cake pan. I cooked them at 350 degrees Fahrenheit for thirty minutes. I cooked the cakes separately so that they both baked evenly.
Once the cakes had cooled off, I crumbled the cake into a bowl and added in 16 ounces of icing. I used a hand mixer to mix the cake and the icing so the cake would be easier to make into balls. I then used a tablespoon to shape the cake into ball forms.
Rolling the cake was definitely the hardest part. My hands were stained red from the batter and I had to roll about fifty of these balls. It was a taxing process.
As soon as I had them all rolled, I dipped them all into chocolate and then put red sprinkles on top.
Overall, I would give this recipe a 10/10. It was quite delicious and really lived up to my expectations. My mom really liked it as well, and so did all my friends. I would definitely make these again.
If you want to try this recipe for yourself, here is the website I got it from: http://www.midwestliving.com/recipe/layer-cakes/cake-bites
About the Writer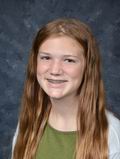 Morgan Baker, Reporter
Morgan Baker is a straight A student who runs varsity for the Altoona Cross Country Team. She enjoys free-style dancing, eating, writing and reading.