Scrumpdidliumpcous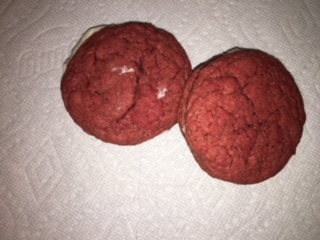 On this blog, I will make a different dessert every week and share my experience with it, the recipe I used and whether or not I thought it was good or not.
This week on Scrumpdidliumpcous I will be discussing my experience in making red velvet Oreos. It didn't really taste or look like an Oreo to me, but that's what they were called.
For the first time in forever, I did not use a box mix! I made the cookie part from scratch all by myself. To make the cookies I whisked together flour, cocoa powder, baking soda, baking powder and salt.
Unfortunately this is where I messed up. I added the sugar to the bowl of ingredients, and I was not supposed to! I was supposed to add the sugar to the butter and whisk that together, but I did not read the directions correctly.
After I made my fatal mistake, I tried to salvage the recipe by adding about a half a cup of sugar to the butter and whisking that together. It did not work out very well but I forged on. Once I had whisked the egg and sugar together, I added in the egg and red food coloring.
Once I had finished whisking the egg and food coloring in, I added the mixture to the dry and ingredients and  mixed them together. This is where my fatal mistake came to light. It would not take on a dough like mixture and I did not know what to do. Then it hit me, I had to add another egg. So I got another egg and added it to the mixture, and it worked!
I shaped the dough into balls and placed them on trays lined with parchment paper. I put them in the oven at 375 degrees Fahrenheit for about ten minutes and then set them out to cool.
While the cookies cooled, I started to make the filling. For the filling I combined powdered sugar, shortening, butter, water and vanilla.
Once the cookies cooled, I piped the filling onto one cookie and then put another cookie on top of it. I did this until I had eight red velvet )reos.
I would give this recipe a 9/10 because I messed it up, so it did not taste like red velvet; it tasted like a sugar cookie. It was still very good; however' so I guess my mistake wasn't too bad. My family and all of my friends loved it so I guess it all still worked out in the end.
If you want to try this recipe out for yourself, here is the website I got it from: https://www.cookingclassy.com/red-velvet-oreos/