Scrumpdidliumpcous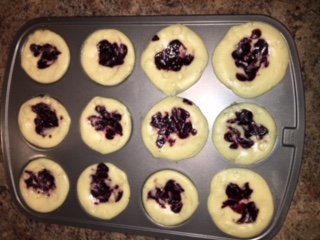 On this blog, I will make a different dessert every week and share my experience with it, the recipe I used and whether or not I thought it was good or not.
This week on Scrumpdidliumpcous I will be discussing my experience in making cheesecake cupcakes. I decided to make these because I had never made cheesecake before, and I wanted to try my hand at it.
First, I made the crust for the cheesecake cupcakes. I combined graham cracker crumbs, sugar and melted butter with a spoon until it was all combined. Then I sprayed the bottom of a cupcake pan with cooking spray and put about a spoonful of the crust into each cupcake circle. I then pressed down the crust into the bottoms of the pan.
Once that was done, I combined cream cheese and sugar in a bowl and mixed it together with an electric mixer on low. I then put in all purpose flour, sour cream and vanilla and mixed that into the filling. After everything was combined, I added three eggs to the mixture and mixed it in. All I had to do then was put in the white chocolate chips. I poured a whole bag of white chocolate chips into the cheesecake filling and folded it in with a rubber spatula.
After the filling was all mixed together, I spooned about three spoonfuls of the mixture into each cupcake circle. I then melted black raspberry jam in the microwave and put about a teaspoon of it onto each cheesecake cupcake. Then I took a knife and swirled it through the jam to make an almost swirly shape.
As soon as I finished putting the jam on the cheesecake cupcakes, I put them in the oven for fifteen minutes at 350 degrees Fahrenheit. Once they were done in the oven, I took them out and put them in the fridge to set.
Overall, I would give this recipe a 10/10. It was extremely good and probably the best thing I've ever made. Not to brag or anything, but it was the best cheesecake I've ever had. My friends really liked it and so did my mom, so I would definitely make this recipe again.
The recipe I used was for a cheesecake (not cheesecake cupcakes) so I modified the baking time from eighty minutes to fifteen. The recipe also called for raspberry jam but I used black raspberry jam.
If you would like to try this recipe for yourself, here is the website I got it from: https://www.tasteofhome.com/recipes/white-chocolate-raspberry-cheesecake