Scrumpdidliumpcous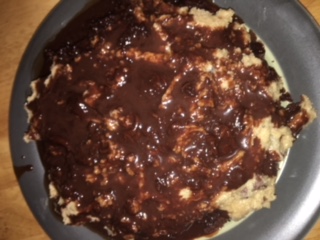 On this blog, I will make a different dessert every week and share my experience with it, the recipe I used and whether or not I thought it was good or not.
This week on Scrumpdidliumpcous I tried my hand at making cookie dough brownie cake. I chose to make this because I was really craving some chocolate this week, but it was an absolute disaster.
First, I found out we didn't have eggs, so I had to use a substitute (1-1/2 tablespoons vegetable oil, 1-1/2 tablespoons water, 1 teaspoon baking powder for one egg) in order to make the brownies. So I made the two packages of brownie mix and then poured them into separate round pans.
This was where disaster really struck. I put the brownies in the oven at 350 degrees Fahrenheit for 25 minutes. I went to check on them when about ten minutes had passed and discovered the brownie mixture was spilling over the edges of the round pan! The edges were burnt to a crisp but the middle was wiggly. So I took the round pans out and put a large pan underneath of each of them and put them back in the oven.
While the brownies were baking, I started on the no-bake cookie dough. I combined flour and salt in a bowl, then in a separate bowl I combined sugar, brown sugar and butter. I then added vanilla extract and slowly mixed in the flour mixture to the the sugar mixture. Then I slowly added in milk until I got the right consistency for the cookie dough.
I took the brownies out of the oven, because they were starting to smoke, and set them down to cool. Some of the brownie mixture had come out onto the pans underneath the round pans, and only one of the brownies was fully cooked. The other brownie was under baked, so I threw that one away.
Then I made the chocolate sauce to go on top. I heated heavy cream in the microwave until it started to boil, then I combined the cream with melt-able dark chocolate chips.
Once the sauce was done, I cut out the inside of the brownie, that wasn't burnt, and put it on a plate. I then put the no-bake cookie dough on top of the brownie and then put the chocolate sauce on top of that.
Overall, the cake was okay. I mean it definitely could have been better, but I take what I can get. I would give this recipe a 5/10, because it is so not aesthetically pleasing and did not taste the best.
If you would like to try this recipe for yourself, here is the website I got it from: https://www.homemadeinterest.com/brownie-chocolate-chip-cookie-dough-cake/