Keeping up with the trends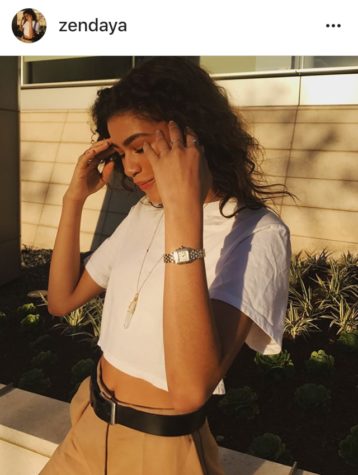 Trends are hard to keep up with, especially because in our world, they're always changing. If you want to be able to keep up with them all, I'm here to help you. Welcome to the AAJHS version of Vogue, and the Walmart version of  beauty "guru. 
This week's look is inspired by: Zendaya.
I chose Zendaya because I wanted this blog to go along with my columns for this month (pssssst go check them out). Zendaya plays Anne Wheeler in The Greatest Showman. 
Creating this look:
As always , we're going to work our way from head to toe.
Hair- Zendaya has naturally curly hair like this, which can be very difficult to achieve if your hair isn't naturally like this. For hair, you can have fun with this, and go about doing your hair however you want.
Makeup- Zendaya's makeup seems to be so natural that it looks like it's not even there, or she's just not wearing any. If you wanted to do your makeup for this look, I suggest using light brown colors to match the khakis or doing a light pink shade for eye shadow.  Just do a light coverage foundation, some setting powder, blush and a tad bit of highlight.
The outfit:
The shirt- Zendaya is wearing a simple white T-shirt that we all probably own, but if you don't, you get one here. 
The pants- If we're being completely honest here, you can find khakis almost anywhere. You could pull up to Walmart, run in, grab them, and be done with it, but if we want to do this the right way, we have to get them mom jean style. I found these ones on Etsy, but you can only buy these one time. If you are seriously considering to re create this 'fit, then try American Eagle or even your local Goodwill.
The shoes- This photo doesn't show her feet, so you can be as creative as you want with this. As long as you think it looks good, that's all that matters.
Accessories- Zendaya is ALL binged out in this photo.  She is wearing Rings, A necklace, a watch, and a belt. You can be really flexible with these items as well.
That's all for this week, if you enjoyed, leave a comment and tell me what I could improve on and who you would like to see next week. :0