Scrumpdidliumpcous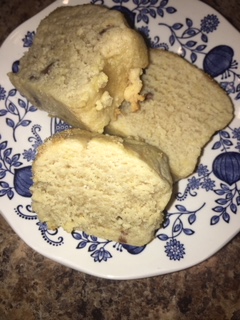 On this blog, I will make a different dessert every week and share my experience with it, the recipe I used and whether or not I thought it was good or not.
This week on Scrumpdidliumpcous, I decided to make chocolate chunk shortbread. I decided to make this recipe because my mom told me she found it online, and it said they were the best cookies ever. So I decided that I'd be the judge of that.
First, I beat the butter, brown sugar, sugar and vanilla until it was light and fluffy. Then I slowly mixed in the flour and added the chocolate chunks.
Once everything was mixed together, I divided the dough in half and put it on separate pieces of plastic wrap. I then rolled the dough on the plastic wrap into log shapes. Then I wrapped them up in the plastic wrap and put them in the freezer to harden.
While the dough was hardening in the freezer, I beat an egg in a bowl and laid out some brown sugar on another piece of plastic wrap.
About ten minutes later, I took the dough out of the plastic wrap and laid the dough logs on the piece of plastic wrap with the brown sugar. I glazed the logs in the beaten egg and then rolled the logs in the brown sugar. I then cut the logs into half inch slices and put them on a pan covered with parchment paper.
I put the cookies in the oven at 350 degrees Fahrenheit and baked them for fifteen minutes.
Overall, I thought they were pretty good. The taste of them was really different but in a good way. My mom absolutely loved them and my friends liked them a lot. I would give this recipe a 10/10 for taste and aesthetic.
If you would like to try this recipe for yourself, here is the website I got it from: http://www.insideedition.com/are-these-best-cookies-ever-fans-are-going-wild-salted-butter-chocolate-chunk-shortbread-cookies