Scrumpdidliumpcous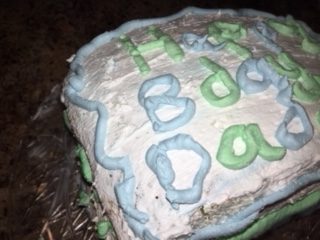 On this blog, I will make a different dessert every week and share my experience with it, the recipe I used and whether or not I thought it was good or not.
This week on Scrumpdidliumpcous, I decided to make vanilla birthday cake because it was my dad's birthday this week.
First, I combined two packages of Betty Crocker Super Moist French Vanilla Cake Mix with water, apple sauce (for fluffier cake) and eggs.
I then put the cakes in two separate pans and put in the oven at 350 degrees Fahrenheit.
Once the cakes cooled, I cut them in half to make four little squares and set them aside for later.
Then I took whipped icing and divided it into three separate bowls. I then put green food dye in one bowl and blue food dye in the other bowl. I mixed the food dyes in with the icing and put them into piping bags to pipe on the cake. I then took the bowl of whipped icing with no food dye in it and put it into a piping bag as well.
I took my first layer of cake and put the white icing on it and then another cake layer on top of it. I then repeated that process until I had four layers of cake. Then I covered the sides and top of the cake with white icing and decorated the sides with the blue and green icing. On top of the cake I wrote, "Happy Birthday Dad" in blue and green icing and then I was finished.
Overall, I thought the cake was good (as good as plain vanilla cake can be). The rest of my family liked it as well, so I'd say it was pretty good.
If you want to make this cake for yourself, here's the recipe:
-Betty Crocker Super Moist French Vanilla Cake Mix (two of them)
-2 cups of water
-2 containers of applesauce
-3 eggs
-whipped icing
Directions: Mix the cake mix, water, applesauce and eggs together in a medium bowl. Pour into a cake pan and put in the oven at 350 degrees Fahrenheit. Put the icing on and enjoy!