Scrumpdidliumpcous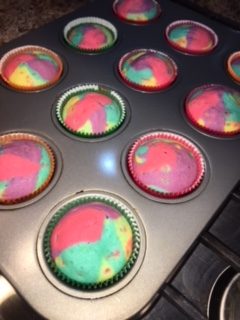 This week on Scrumpdidliumpcous, I decided to make rainbow cupcakes. I wanted to make these because it was my friend Abbie's birthday this week, and I wanted to try something new.
First, I creamed my butter and sugar together with an electric mixer and then beat the eggs in one at a time. Then I mixed together flour, baking powder and salt in a separate bowl.
Once that was done, I slowly mixed the flour mixture into the egg mixture. Once I would add a little bit of the flour mixture, I would add a little bit of milk. I did this until all of the flour mixture and milk was gone.
After the batter was made, I spooned an even amount of batter into seven different bowls. In each bowl, I put different food dye so that I had all the colors of the rainbow. I then put the different colors into separate piping bags. I lined a cupcake pan with different colored liners, then I piped the different colors into them.
Once all the batter was in the pans, I put them in the oven at 375 degrees Fahrenheit and baked them for 18 minutes.
After they cooled off, I piped Betty Crocker Vanilla Icing onto them and I was done.
Overall, these cupcakes were amazing. I would give them a 10/10 for aesthetic and taste. Abbie loved them, and so did my other friends. My dog also got a hold of one and seemed to like it as well.