Keeping up with the trends
This weeks look was inspired by Rachel from Friends.
Trends are hard to keep up with, especially because in our world, they're always changing. If you want to be able to keep up with them all, I'm here to help you. Welcome to the AAJHS version of Vogue, and the Walmart version of  beauty "guru". 
90's clothing items are 'so in' and they have been for a while. This week's look was inspired by a fashion icon from the 90's, Jennifer Aniston.  Hopefully some fellow students rose to the occasion and sported some 90's fashions for theme day.
The look I was inspired by: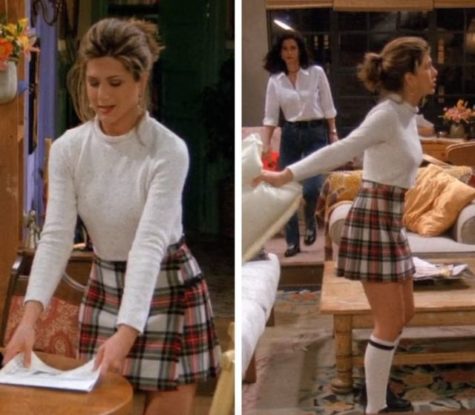 We're going to go from head to toe as usual.
Hair- Rachel just has her hair in a simple messy ponytail. This is accomplished by simply just tying your hair back with a hair tie. If you actually don't know how to do this, I'm sure you can find a youtube video on it.
Makeup- Rachel just has a subtle smokey eye which is achieved by using light browns and blending them together, and she's wearing a light dusty rose color of lipstick. If you want to do anything else makeup wise, just apply as needed.
Outfit-
Disclaimer- These clothing pieces are obviously not going to be exactly what she's wearing, but my main goal is to get something fairly close to it.
That's all for this week! Thanks for reading! If you enjoyed, tune in next week for more.