Lion Loot Issues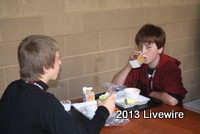 Since the weather outside is getting nicer and nicer everyday, students are allowed to start eating outside for lunch. If a student has three lion loot and they want to eat outside they should be allowed to. Unfortunately, not every student who wants to eat outside for lunch can because there is a limited number of seats. Students follow two different lunch schedules. Students either have homeroom before lunch or homeroom after lunch. Those students who have homeroom before lunch may not to get to eat outside because there are not enough seats.
Students earn lion loot for getting good grades, doing homework, helping others, answering questions and for following the school rules. As students get older teachers are handing out less loin loot. In ninth grade students may only get lion loot for good grades or for doing homework. Ninth graders aren't being awarded for respecting their peers and their teachers. Some teachers who teach both ninth and seventh grade agree that ninth grade students don't receive as much lion loot as seventh grade.
 Principal, Lori Mangan has agreed to look into adding more tables outside and limiting the number of students who can eat outside in the different lunch schedules. With more tables there are more chances for students to spend their lion loot and eat outside. Adding more would allow more students to be awarded for their good behavior during school.
Students still are facing the fact that they may not have enough lion loot to eat outside with their friends. Eating outside is an award for being good in school. Many students are really good students, and not given the opportunity to eat outside because their teachers don't hand out lion loot often.
With so many opportunities coming up for students to spend their lion loot they have collected through the school year. Some students are facing the fact that they barely have any lion loot. Coming up is the award movie on April 26. Recess Day on June 4- 6. and it would be a shame if students don't have enough lion loot to attend these events.
Leave a Comment