Scrumpdidliumpcous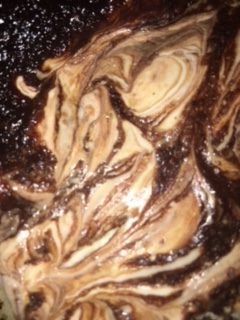 On this blog, I will make a different dessert every week and share my experience with it, the recipe I used and whether or not I thought it was good or not.
This week on Scrumpdidliumpcous, I made flour-less cheesecake brownies because my mom really wanted me to make them.
The first thing I did was spray the pan with cooking spray and then put parchment paper on top. Then I preheated the oven to 325 degrees Fahrenheit.
Then, in a medium bowl, I whisked together a whole egg with another egg yolk. Once it was whisked I added water, honey and vanilla and stirred it with a spatula.
I then mixed together almond meal, cocoa powder, salt and baking soda in a separate bowl. Then I poured the egg mixture into the dry ingredients mixture. After it was mixed, I folded in the chocolate chips.
Then I poured the brownie batter into the pan and set it aside.
After the brownie batter was set aside, I started on the cheesecake filling. I softened the cream cheese in the microwave and then mixed in sugar, egg whites and vanilla.
I then poured the cheesecake filling over the brownie batter and swirled it around with a toothpick. Then I popped it in the oven for 30 minutes.
Overall, I'd give this recipe a 9/10. My mom really loved it, but I thought that it was just okay.
If you'd like to try this recipe out for yourself, here is the website I got it