Scrumpdidliumpcous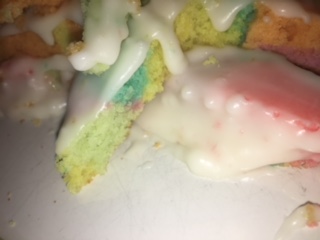 On this blog, I will make a different dessert every week and share my experience with it, the recipe I used and whether or not I thought it was good or not.
This week on Scrumpdidliumpcous, I decided to go all out and make a rainbow star layered cake. After all, this is my last blog for the school year.
The first thing I did was mix sugar and butter with an electric mixer. Then I beat in one egg at a time into the mixture.
Then I took a separate bowl and combined flour, salt and baking powder.
Once the flour mixture was ready, I slowly mixed it into the wet mixture. After I added some flour mixture, I mixed in some milk and kept doing that until all the milk and flour mixture was gone.
After everything was all mixed together, I added vanilla extract into the mixture and stirred it with a spoon.
Then it was time for the best part, dying the batter! I separated the batter evenly into six different bowls and colored the batter red, orange, yellow, green, blue and purple.
I then put the different colored batters into separate piping bags. Once the piping bags were ready, I alternated piping the different colored batters into the cake pan.
Then I put the cake in the oven for eighteen minutes at 375 degrees Fahrenheit.
While the cake was in the oven, I started on my icing.
First I combined powdered sugar and butter with a spoon. Once it was combined, I added in milk and vanilla extract until the mixture had the consistency of icing.
Once the cake came out of the oven, I let it cool before I iced it.
After the cake was cooled, I cut it into star shapes and iced it.
Overall, I thought the cake was pretty good. The star shapes didn't really workout the way I wanted them to, but the cake tasted really good.
If you'd like to try this recipe out for yourself, here is the recipe I used for the cake:
2 cups flour
3/4 cup sugar
1 teaspoon vanilla extract
2 teaspoons baking powder
1/2 teaspoon salt
1/2 cup butter (softened)
Mix together sugar and butter in a medium bowl. In a separate bowl, combine flour, salt and baking powder. Mix the flour mixture into the wet ingredients, alternating with milk. Once everything is combined, mix in vanilla extract. Put the cake in the oven for eighteen minutes at 375 degrees Fahrenheit.
Here is the recipe I used for the icing: https://www.bettycrocker.com/recipes/vanilla-buttercream-frosting/39107a19-be94-4571-9031-f1fc5bd1d606