New junior high teachers join faculty
Hang on for a minute...we're trying to find some more stories you might like.
Eighteen teachers joined the building or switched roles this school year.
Matthew Gill, Lori Stangl, Kimberly Peck and Susan Smithmyer are four of the 14 teachers who joined the building.
Gill is having a wonderful time at the junior high.
"Yes, I'm definitely enjoying my time here at the junior high so far!  The administrators and other teachers have been very friendly and helpful, and the students are cooperative, polite and eager to learn," Gill said.
Stangl also enjoys her time at the junior high.
"I have made excellent connections with staff.  The students are great to work with. I feel very lucky," Stangl said.
Peck loves how she gets to work with the staff and teach students.
"I've really enjoyed getting to know some of the students and staff.  There has been a lot to learn, but I am very glad to be here and look forward to what the rest of the year brings," Peck said.
Smithmyer has a positive outlook on the staff and students.
"I am very much enjoying my time teaching at the junior high.  The staff is so supporting and welcoming. The students are dedicated and hard working," Smithmyer said.
Lori Piper and Cameron Kyle are two of the four teachers who switched roles within the school district.
Piper moved down to the first floor of the junior high to teach eighth grade tech ed and the ninth grade engineering elective after teaching seventh grade integrated science.
Piper moved from the fourth floor to the first floor in search of a new teaching opportunity.
"Last year, when one of the teachers left, I decided to come down here because I wanted to do more of the engineering-type projects, so this was a great opportunity for me to be able to get into more engineering and problem-based teaching," Piper said.
Piper has been teaching at the junior high for quite some time.  She loves to see her students grow up over the years.
"I love getting to watch the kids as they grow and mature and then watching them come back from the high school to join TSA clubs and to come visit in this kind of place," Piper said.
Kyle began teaching eighth grade American cultures after being a supervisor in the suspension room. Kyle also switched roles in the school district.
"I've always liked history.  History has always been my subject," Kyle said.
Social Studies  was his favorite subject in middle school and still is today.
"I always thought it was very interesting, and I have always had great social studies teachers too.  They have influenced me along the way," Kyle said.
Piper and Kyle are both very pleased with their new roles around the junior high.  They are looking forward to teaching these subjects for quite some time.
About the Writer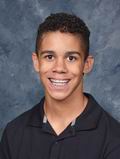 Brayden Adams, Reporter
Hi! My name is Brayden Adams. I am the music geek of the school. I play guitar, bass guitar and drums. It has been my passion since I was in sixth grade. I started going to concerts last year in March, and ever since I went to my first concert, my life has been changed for the better. In addition to my musical interests, I also have an interest in playing video games, running for our school's track and field team and spending time with the people I love. My dream is to go to college, obtain a master's degree, live in a very, very nice house and have a job in which I will enjoy the most. I want to be as successful as I can be, so therefore, I am going to try my hardest to do just that. I am Brayden Adams, and welcome to my profile.