Class of 2020 attends Sweetheart's Dance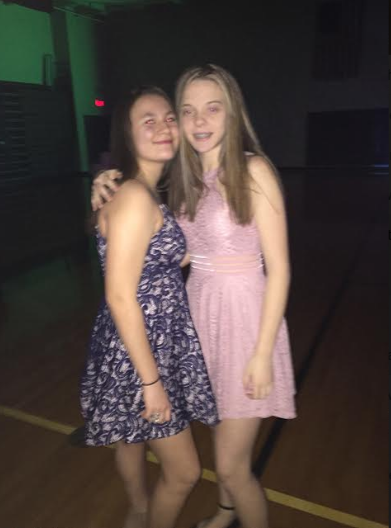 On Friday, Feb. 22 the ninth grade students joined together at the junior high gym for the Sweetheart's Dance.  The ninth grade students finally get this opportunity, and both the students and the organization start planning for it way before the date.
Preparation
The ninth grade committee, or the set-up committee, start preparing months in advance.
"We prepare by kids selling tickets which goes to their admission, and also it goes to the school so we can get things for the dance," ninth grade committee member Marlana Miller said.
Preparing the dance is also figuring out who can come and making it look like a party. 
"We have to look at fines, probation list and get snacks," ninth grade committee leader Stephanie McAleer said.
The students attending also have to prepare for the dance.
"Preparing for the dance is finding the perfect dress which is very hard and finding a date or a friend to go with," ninth grader Alyssa Covach said.
The dance is not all about clothes or who looked the best; it is meant for fun.
"I hope to enjoy time with friends and have a good memory when I look back. I think the students will have fun and will have an amazing experience," Miller said.
After the dance
The dance is now over, and the students who attended are looking back at the memories of the night.
"I enjoyed Sweetheart's because I got to dress up and hangout with friends," ninth grader Elly Eisel said.
There were a lot of people at the dance.
"It didn't affect the night because I got more excited to see my classmates, and it got me looking more forward to the rest of the night," ninth grader Alicia Thayer said.
The ninth grade students had expectations for the dance.
"My expectations were to see people dressed up nicely and having fun and dancing with their friends,"  Eisel said.
The expectations of some students were met.
"My expectations were met because I was hoping to have a lot of fun and that is exactly what happened," Thayer said.
Students also had considerably best parts.
"The best part was jumping and dancing with my friends,"  Thayer said.
They played songs at the dance.
"The best part was when 'Mo bamba' came on," ninth grader Devon Pfirsching said.
There were 210 tickets sold and $1,050 was raised.