A burning cathedral, a loss of history, a lack of conversation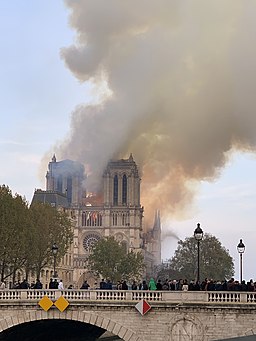 On Monday, April 14, the famous cathedral, Notre Dame, burned.  Many relics were lost, but that isn't the real issue here. In fact, the real issue is that no one in the school is talking about it.
One of the main reasons it needs to be talked about more is that it is an historic monument. It was completed in 1345, and sustained damage throughout the ages.  Notre Dame was a part of practically everything in France after the 1300's and sustained damage during the French Revolution. It wasn't thought about being repaired until the book, The Hunchback of Notre Dame by Victor Hugo was published in 1831.
We can't sweep it under the rug so it doesn't seem to be a big deal. This portrays the attitude of most events in our lives and that isn't a healthy attitude either.
Another reason to make note of this historic event is that Notre Dame was a pioneer of architecture.  It was one of the first major buildings to feature Gothic style- which is important. Without this introduction of Gothic style, our buildings may look entirely different.
Notre Dame is an astounding cathedral. Instead of ignoring it and going about the rest of the day, we should remember it as a monument and as a pioneer.